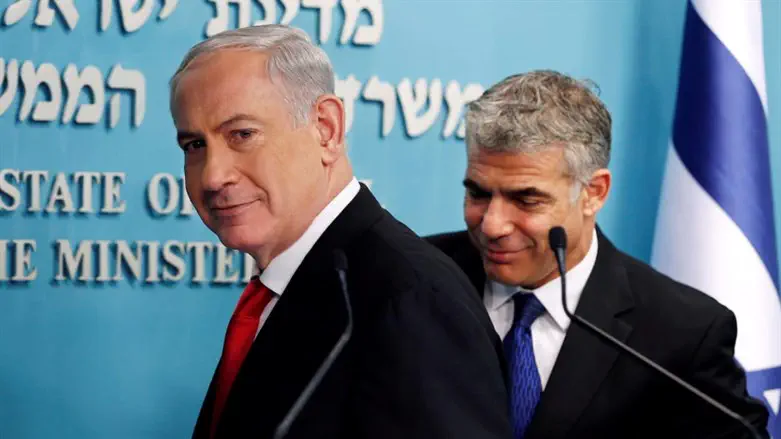 Netanyahu and Lapid
REUTERS/Ronen Zvulun
A new poll by Channel 13 News showed that if elections were held today, the Likud-led bloc would a total of 60 Knesset seats, one short of a majority.
The poll, conducted by the Midgam Research Institute, also showed that the current coalition partiers would win just 54 Knesset seats.
According to the new poll, the Likud party would win 35 seats, followed by Yesh Atid, which is projected to win 24.
The third-largest party would be a united Blue and White-New Hope list, with 13 Knesset seats, followed by Religious Zionism with 11 seats.
Sephardic-haredi Shas would win eight seats, while Ashkenazic-haredi United Torah Judaism and the Joint Arab List would win six seats each. Following them is Yisrael Beytenu with five seats.
Three parties would win four seats each: left-wing Meretz, the United Arab List (Ra'am), and Labor.
In this poll, Yamina failed to pass the electoral threshold.
Forty percent of respondents said they would prefer a government which includes the Otzma Yehudit party, while 20% said they would prefer a government which includes Ra'am.
When asked who best represents their values, 40% of respondents said Likud's MK Benjamin Netanyahu, while 30% answered that Prime Minister Yair Lapid represents their values best.
Regarding whether Netanyahu's ongoing trial is having an effect on the votes, 71% said that the trial has no effect, while just 17% said that what is being said during the trial influences voting intentions.