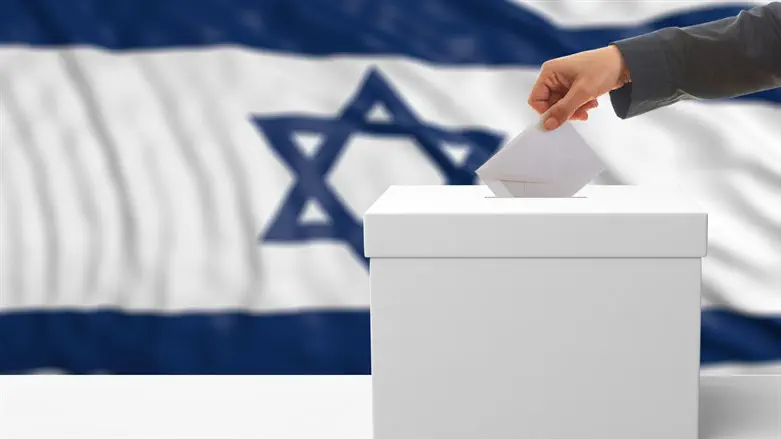 Will November's elections be deja vu all over again?
iStock
With many of Israel's political parties in turmoil, a new poll published on Sunday evening gives the Netanyahu bloc 60 seats and the opposition parties 54 seats without the Joint List party.
The poll, reported by Kan 11 News, shows the Likud party increasing its strength and gaining 35 seats but still failing to secure a majority in the Knesset. Yesh Atid, the party headed by interim Prime Minister Yair Lapid, still places second, with 22 seats and also with no clear path to power, even if it includes the predominantly Arab Joint List within the coalition.
The new union of Blue & White and New Hope comes in third with 12 seats, two seats less than the parties currently hold between them. Not far behind is the Religious Zionism party with 10 seats. Party leader MK Bezalel Smotrich and Otzma Yehudit head MK Itamar Ben Gvir are currently negotiating toward a merger rather than a technical bloc; if and when their agreement is concluded, this could impact their election performance.
The only other notable difference between other recent polls is an added seat that goes to the Meretz party, in the wake of former leader Zehava Galon's announcement that she is standing to become party leader once again.
Despite the furor that resulted in some quarters at the end of last week, when former Prime Minister Benjamin Netanyahu provided testimony before the commission of inquiry into the Meron disaster, the Likud party seems not to have suffered the consequences. Netanyahu insisted, when questioned, that he was not responsible for what happened and that he was not kept properly updated on the preparations for Lag b'Omer. The latest poll asked those surveyed what they thought of his response -- 43 percent of those polled said that Netanyahu should be held responsible, as opposed to 32 percent who said he should not.
The poll's results in full are:
Likud: 35 seats
Yesh Atid: 22 seats
Blue & White/New Hope: 12 seats
Religious Zionism: 10 seats
Shas: 8 seats
United Torah Judaism: 7 seats
Labor: 6 seats
Joint List: 6 seats
Meretz: 5 seats
Yisrael Beytenu: 5 seats
Ra'am (United Arab List): 4 seats
Yamina: 0 seats (with just 1.6 percent of the vote, far below the 3.25 percent of the electoral threshold)