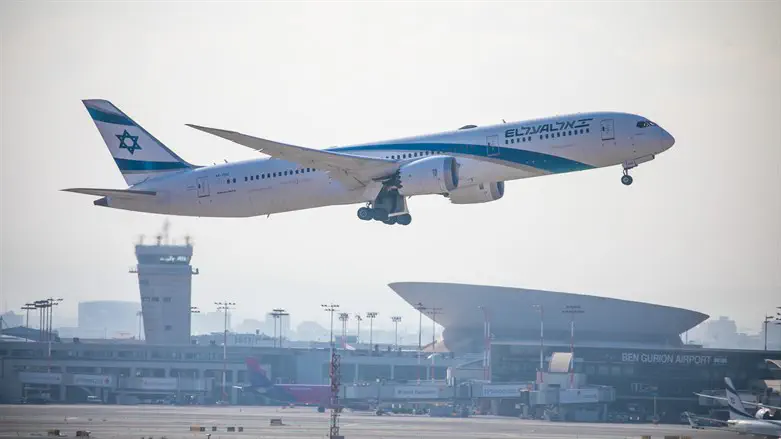 El Al
Yossi Aloni/Flash90
Israel's national airline, El Al, has asked Saudi Arabia to begin allowing Israeli flights over its airspace as early as this week.
According to a report on Channel 13 News on Saturday night, El Al has asked for permission to fly to Bangkok via Saudi Arabia, which would shorten the flight time by about three hours. The report also said that Israeli airline Arkia asked to fly to Goa in India over Saudi Arabia, in order to shorten the route.
Saudi Arabia has not yet responded to the requests of the Israeli airlines.
The Israeli airlines' request was forwarded to Saudi Arabia after Thursday's announcement that the Saudi airspace will be opened for all air carriers that meet the requirements of "the authority for overflying", including those from Israel.
US National Security Advisor Jake Sullivan said in a statement later on Thursday night that "President Biden welcomes and commends the historic decision by the leadership of Saudi Arabia to open Saudi airspace to all civilian carriers without discrimination, a decision that includes flights to and from Israel."
"This decision is the result of the President's persistent and principled diplomacy with Saudi Arabia over many months, culminating in his visit today. This decision paves the way for a more integrated, stable, and secure Middle East region, which is vital for the security and prosperity of the United States and the American people, and for the security and prosperity of Israel. The President will have more to say on this breakthrough later today, as we embark on his historic flight directly from Israel to Jeddah, Saudi Arabia," added Sullivan.
The Saudi announcement came hours before Biden took off from Israel to Saudi Arabia, where he held a three-hour meeting with Saudi Crown Prince Mohammed bin Salman.
After the meeting, Biden announced two agreements made with Saudi Arabia which are widely considered to be significant steps on the path toward normalization between Israel and Saudi Arabia.
One of the deals announced concerns the removal of multinational forces from the Red Sea islands of Sanafir and Tiran, and the other concerns the opening of Saudi airspace for all Israeli flights.