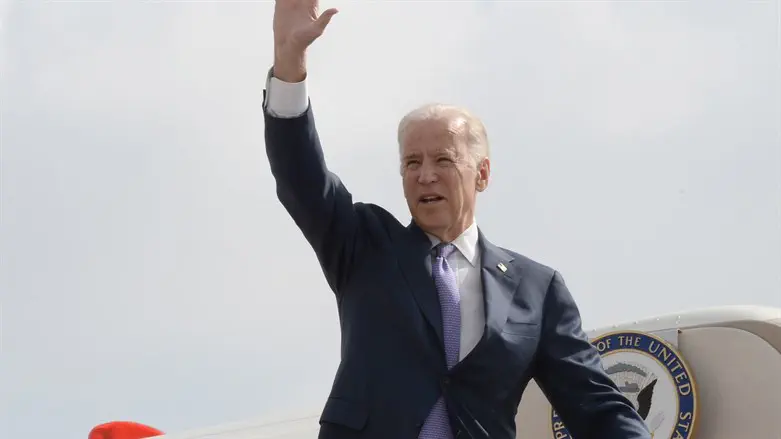 Biden visits Israel
Matty Stern/US Embassy Tel Aviv/Flash90
US President Joe Biden is slated to make his first visit to the region tomorrow (July 13).
The President is scheduled to land in Israel at 3:45 pm local time. He will be received with a red carpet upon exiting Airforce One and an official welcome ceremony attended by Israel's President Isaac Herzog, Prime Minister Yair Lapid, and Alternate Prime Minister Naftali Bennett.
At 4:15 pm, Biden will tour the Defense Ministry's multi-tiered air defense system accompanied by Prime Minister Lapid and Defense Minister Benny Gantz. The Defense Minister will also provide Biden with an overview of bilateral security cooperation. At 5:35 pm, Biden will pay a visit to the Yad Vashem Holocaust Remembrance Museum.
The following day, the President will participate in a private meeting with Lapid, where the two will discuss US-Israel relations. An expanded meeting attended by staff members of both parties will follow.
At 12:30 pm, Lapid and Biden will participate in the first-ever I2U2 virtual summit along with the leaders of India and the United Arab Emirates and at 1:30 pm, the two will hold a press conference which will be broadcast live from the Waldorf Astoria Hotel. At 5:30 pm, Lapid will accompany Biden on a welcome ceremony of the President's Residence.
At 7:50 pm, the two will attend the opening ceremony of the Maccabiah Games at Teddy Stadium in Jerusalem, where they will watch the official opening with athlete delegations from around the world entering the stadium. On Friday, Lapid will attend a brief departure ceremony before Biden heads for a visit of the PA.
Ahead of Biden's visit, Defense Minister Benny Gantz ordered no less than six outline plans for Palestinian Arabs to be approved for construction in Area C.
Among the measures which were approved are the outline plans for the Palestinian Arabs, as well as the registration of 5,500 stateless persons in the Palestinian Authority population registry, in addition to the 12,000 already approved, an increase in the quota of workers from the Gaza Strip who can enter Israel to work and trade by another 1,500, and the opening of a new crossing to be called 'Salem' in northern Judea and Samaria, for the purpose of the entry of Israeli Arabs into the city of Jenin.
The White House has also announced that Israeli representatives will not be allowed to attend President Biden's visit to a Augusta Victoria Palestinian Arab hospital in Jerusalem despite pressure by senior Israeli officials to reverse the decision.
Following the visit, the American leader will head to Bethlehem for a meeting with Palestinian Authority (PA) chairman Mahmoud Abbas.
At the hospital, Biden is expected to meet with Palestinian civil society activists, according to Israeli officials.
He is also expected to announce $100 million in US assistance to the Palestinian Arab hospitals network in eastern Jerusalem, according to an Axios report.