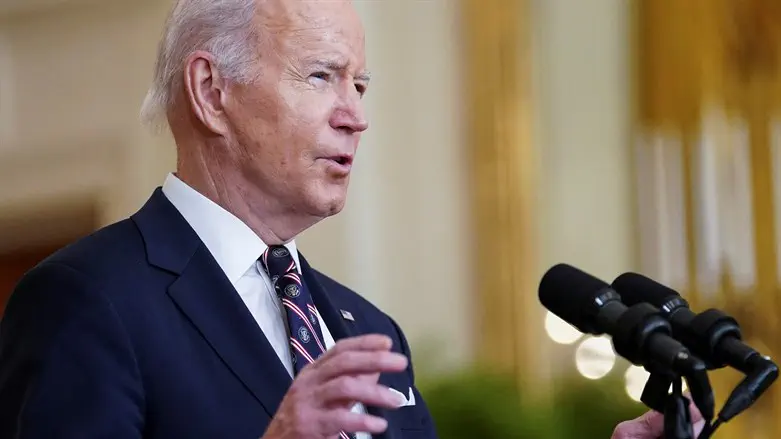 Joe Biden
Reuters
The Prime Minister's Office ordered the removal from the agenda of the Jerusalem District Planning and Construction Committee of plans to build about 2,000 housing units for Jews in eastern Jerusalem.
Prime Minister Yair Lapid's office realized that the plan was scheduled to be brought for approval next Monday and decided ahead of the visit of US President Joe Biden tomorrow to remove it from the agenda.
At the same time, as part of a goodwill gesture approved by Defense Minister Benny Gantz, no less than six outline plans for Palestinian Arabs will be approved for construction in Area C.
This is as part of measures announced by the coordinator of government operations in the territories, Major General Ghassan Alian, in preparation for Biden's visit.
Among the measures which were approved are the outline plans for the Palestinian Arabs, as well as the registration of 5,500 stateless persons in the Palestinian Authority population registry, in addition to the 12,000 already approved, an increase in the quota of workers from the Gaza Strip who can enter Israel to work and trade by another 1,500, and the opening of a new crossing to be called 'Salem' in northern Judea and Samaria, for the purpose of the entry of Israeli Arabs into the city of Jenin.
Efrat Mayor Oded Revivi referred to the decision of the Prime Minister's' Office to freeze construction in eastern Jerusalem and the decision of the Defense Minister to advance outline plans for the Palestinian Arabs in Judea and Samaria.
"I support granting permits to the Palestinians, and I believe that this is how a state should demonstrate sovereignty, alongside the sincere desire to develop better neighborly relations in Judea and Samaria. At the same time, I expect that our leaders will also take measures to build trust between the Israeli government and its citizens, those in Jerusalem and those in Judea and Samaria. We, too, have been trying for months and years to get them to approve our building plans, open our roads, and allow us to grow and develop. We Israelis are also allowed to take measures to build confidence after this period of rupture," Revivi said.