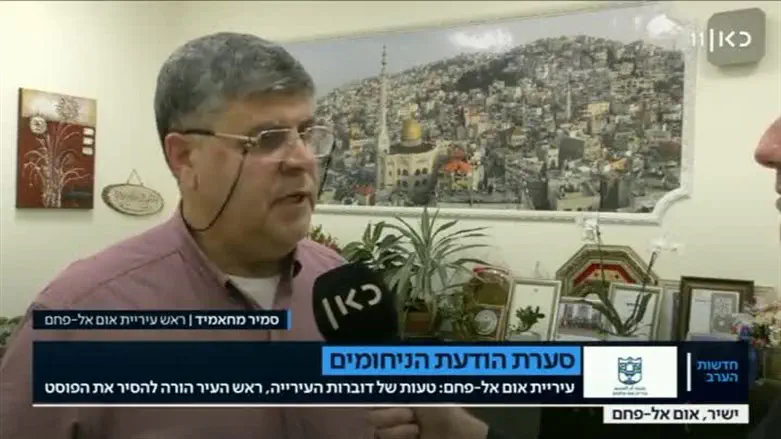 Mayor resigns
Kan 11 evening news
Umm al-Fahm Mayor Dr. Samir Sobhi Mahamed withdrew his resignation after publishing a letter of condolence to the families of the terrorists who committed the deadly shooting attack in Hadera on Sunday.
Mahamed had announced his resignation in a live interview Thursday evening, only to announce he would remain in office a few hours later.
The words of condolence to the families of the terrorists were published on the official Facebook account of the Municipality of Umm al-Fahm, and were written on his behalf of all municipal employees and residents of the city.
"On my behalf and on behalf of the members and employees of the Umm al - Fahm Municipality and the people of the city, we send our sincere condolences and heartfelt condolences to our brothers in the Bashir family, on the deaths of the deceased: Ayman Ahmad Bashir Agbaria and Ibrahim Hassan Bashir Agbaria," the municipality's Facebook page said.
"May God have mercy on them and forgive them and provide comfort to their families," it was written. "We belong to Allah and we will return to him."
Speaking to Kan News Thursday evening, Mahamed said: "I came from the field of education to serve the residents of the city. I was able to do a lot for their well-being and also failed in some places. I came to a place foreign to the values ​​I follow. I was educated for tolerance, action and partnership and so I did and will continue to do. From the first moment I uttered my condemnation of this attack, it was not ambiguous - because that is my truth."