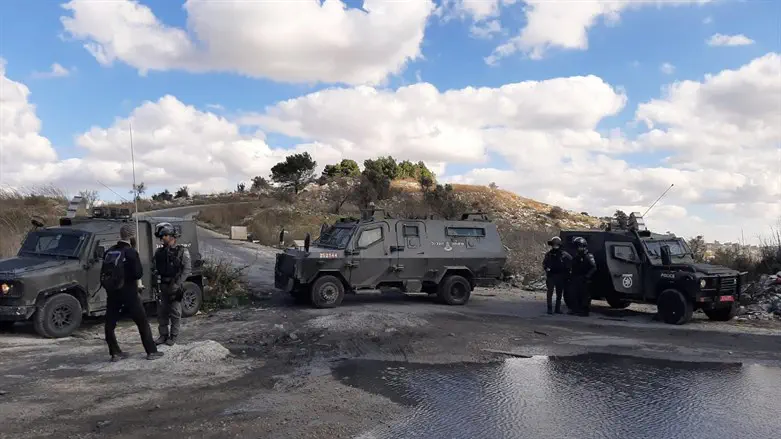 Road to Homesh blocked
Courtesy of Homesh yeshiva
The state on Thursday submitted its response to the Supreme Court regarding a petition by left-wing organizations and Palestinian Arabs demanding the immediate evacuation of the yeshiva in Homesh.
The state's response said that actions were being taken to enforce new illegal construction on the site.
"In accordance with the directive of the Defense Minister, determined enforcement actions are being taken against any new construction or disturbance in the Homesh area. Moreover, in view of the repeated attempts to establish illegal construction on the site and the incidents of violence that took place in the area, a directive was issued to place a permanent presence of security forces in favor of control and enforcement at the site."
"Today, security forces are actively working to prevent Israelis from entering the area, in accordance with the directives of the political echelon. In general, barriers were placed along all access roads to Homesh. The barriers, manned by the security forces, only allow the passage of Palestinians and - until the evacuation of all the construction components erected there - of a small group of Israelis associated with the yeshiva operating there. In addition, on a number of occasions, a number of Knesset members came to the area," the state's response said.
The state also said that the defense establishment is taking steps to prevent Israelis from entering Homesh in accordance with the Disengagement Law, but the defense establishment does not have the ability to prevent entry to the site by foot. In addition, it was emphasized that the evacuation of the yeshiva in Homesh will be done in accordance with the decision of Defense Minister Benny Gantz.
The state's response said that in the past month, there have been dozens of violent incidents by Palestinian Arabs against security forces and against Israelis as well as a number of violent incidents by residents of Homesh against Palestinian Arabs and the security forces, which necessitates addressing the security implications of each operation.
At the conclusion of its response, the state proposes that it provide another update on the situation on the ground within about a month and a half.