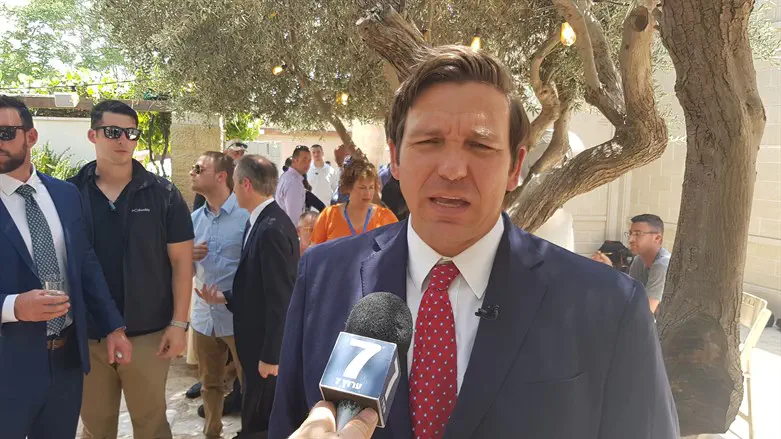 Florida Governor Ron DeSantis
Yoni Kempinski
Florida Agriculture Commissioner Nikki Fried, who is planning to run for governor, compared incumbent Governor Ron Desantis to Adolf Hitler.
In an interview with WLRN, Fried said: "I'm a student of history too, I saw the rise of Hitler. I've learned of those stories. I have studied Hitler and how he got to power you know, wanting his own militia and having his own militia."
Fried referred to DeSantis' call to reform the Florida State Guard, an act which is legal under US law and which 22 other states have done. "The reason why this governor wants it is different than the other states that have been utilizing it for emergency purposes," she declared.
"He is doing everything possible to take power away from local governments, taking away people's abilities to protest, making it harder to vote, talking about, you know, banning books," she said.
Fried accused DeSantis of seeking to instill fear in Florida's citizens to consolidate his hold on power.
"Do I think that we're going to get to this extent of Hitler's power, of course not, but the rise of his power and what he did to scapegoat certain parts and especially the Jewish community in Germany and how he utilized taking going after the media going after, and scapegoating people and blaming people and putting fear and then taking over the military, that's what this governor is doing, she said.
DeSantis' press secretary Christina Pushaw tweeted in response: "If we had an honest media instead of DNC stenographers, reporters would be criticizing Nikki Fried's dishonest and offensive claim that Governor DeSantis is a modern-day Hitler. With this hysterical comparison, Fried not only smears millions of Floridians as Nazis, but also trivializes Hitler's crimes against humanity. This is not funny, it's sick."
Bal Harbour, Florida Mayor Gabriel Groisman also criticized Fried's comparison.

"Hitler systematically murdered 6 million Jews and appx 3 million others. Gov. Ron DeSantis is loved by the Jewish community and has led our state with dignity on so many issues. Nikki Fried, Your desperation is showing. Disagreeing with his policies doesn't make him Hitler. Low," Groisman said.

"To be clear, any comparison of COVID policies to Hitler or Nazi Germany is assinine, offensive, and has no place in our society. This is true whether coming from Democrats or Republicans, Jews or non-Jews alike."