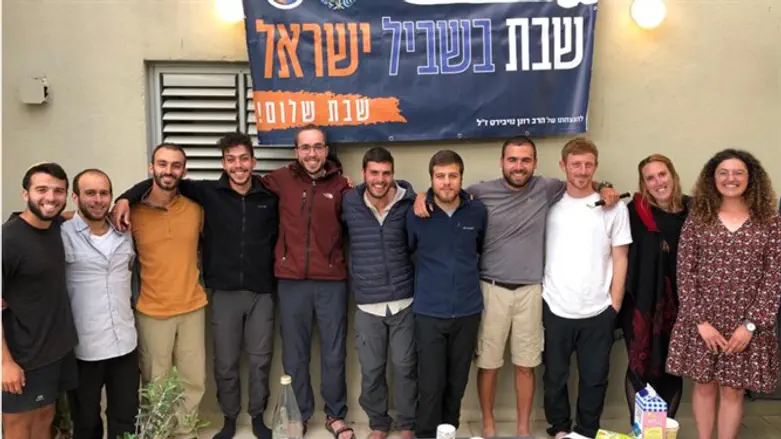 Participants
Tzohar
Charting its way some 1,100 kilometers (683.5 miles) from the southern tip of the country all the way to the country's northern border, the famed Israel Trail has become even more popular amongst locals in recent months while foreign travel has been curtailed by the pandemic.
Recognizing how many young people turn to the trail particularly over weekends, the Tzohar Rabbinical Organization has launched a new initiative that will bring Shabbat (Sabbath) programming to various points along the trail.
Hikers who know they will be travelling along the trail over Shabbat will be encouraged to sign up in advance for one of Tzohar's programs. There they will share community meals, Shabbat prayers, songs and intellectual discussions in a setting designed to bring together young Israelis from different walks of life.
The program will be promoted via signage along the trail, as well as via the Tzohar website, allowing hikers to sign up online. The Shabbat programming will be take place in special tents set up specifically for purposes of hosting these events.
The initiative was created in memory of Rabbi Ronen Neuwirth, who served as rabbi of the Ohel Ari Synagogue in Raanana.
Ori Shechter, Director of the Tzohar Shabbat on Israel Trail initiative said, "The goal of this program is to allow Israelis from all walks of life to come together in a way that highlights their connection to the land as well as their Jewish identities. It will allow us to celebrate Shabbat in a respectful, meaningful and enjoyable manner amidst some of our country's most beloved and beautiful locations."