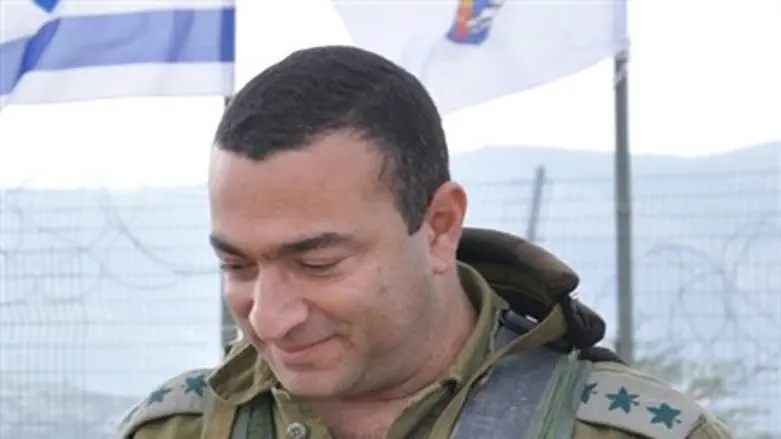 Col. Yisrael Shomer
IDF Spokesperson Unit
Deputy Defense Minister Rabbi Eli Ben-Dahan (Jewish Home) on Sunday night welcomed the decision to close the investigation against Binyamin Brigade Commander Col. Yisrael Shomer, who last July 3 shot dead an Arab rock thrower who attacked his car as he drove through Kalandiya in northeastern Jerusalem.
"The decision is very important because it makes clear to IDF soldiers and commanders that they will be supported when they act against terrorists. This is a very important statement, especially during an ongoing wave of terrorism," said Rabbi Ben-Dahan.
The deputy minister stressed that "the decision also reinforces the notion that rocks kill, and that those who throw rocks are terrorists, and it does not matter if the rock-throwing targeted IDF soldiers or the cars of innocent civilians."
"As public representatives we must show responsibility and not be influenced by leftist elements who try to undermine our clear knowledge that the IDF is the most moral army in the world," added Rabbi Ben-Dahan.
The IDF, along with other Israeli officials, had initially backed Shomer over his actions, noting the danger to his life in the attack as the rock smashed the windshield and penetrated into the car. Similar rock attacks have caused death in numerous cases, such as in the murder of Alexander Levlovitz last September.
But after the radical leftist NGO B'Tselem released video of the incident it pressured the IDFto launch an investigation into the shooting of the terrorist Mohammed al-Kasbeh.
Coincidentally video filmed by B'Tselem activists also spurred the investigation of another soldier who is currently charged with manslaughter, after he shot a wounded terrorist in Hevron three weeks ago over concerns he was going to detonate an explosive belt.
In response to the rock attack, Shomer exited the vehicle and followed IDF procedure to apprehend a terrorist, calling out a warning and shooting in the air before firing twice while aiming for the terrorist's legs.
In the investigation, it was found that Shomer shot at the terrorist's legs while he was in motion and not while standing still, and therefore his shots were not precise and killed the terrorist.