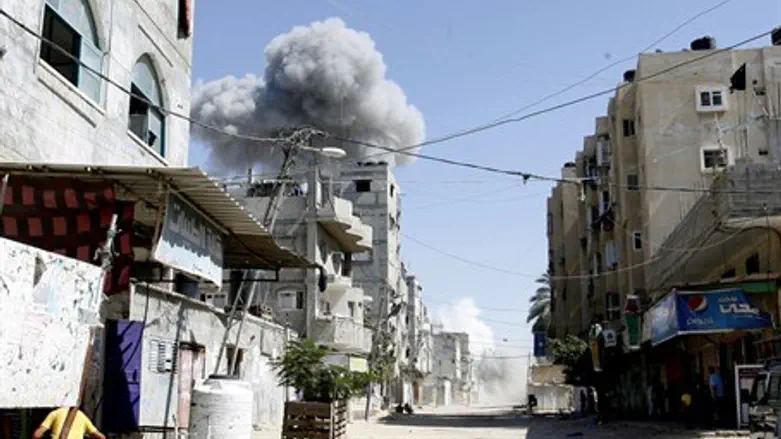 Gaza airstrike (archive)
Flash 90
The Israel Air Force on Wednesday night launched an airstrike against a weapons manufacturing site belonging to Hamas in central Gaza.
According to a statement from the IDF Spokesperson's Unit, the airstrike was retaliation for a rocket attack by Gaza terrorists several hours earlier.
"The IDF holds the Hamas terrorist organization solely responsible for the goings on in the Gaza Strip," the statement said.
The rocket, which was fired towards southern Israel shortly after midnight on Wednesday, exploded in an open area in the Eshkol region in the Gaza Belt, near the border fence.
There were no reports of injuries or damages. Sirens did not sound in nearby communities.
Despite a ceasefire which was agreed upon at the conclusion of last summer's Operation Protective Edge, terrorists continue to fire rockets at southern Israel on occasion.
Three weeks ago, Gaza terrorists fired a rocket into Israel. The rocket struck the Eshkol region, hitting an open field just north of Kisufim. There were no injuries.
Israel retaliated with an airstrike targeting a terrorist infrastructure belonging to Hamas in central Gaza.
A direct hit at the target was identified.
There have also been several incidents when rockets fired from Gaza missed the mark and exploded within the region.