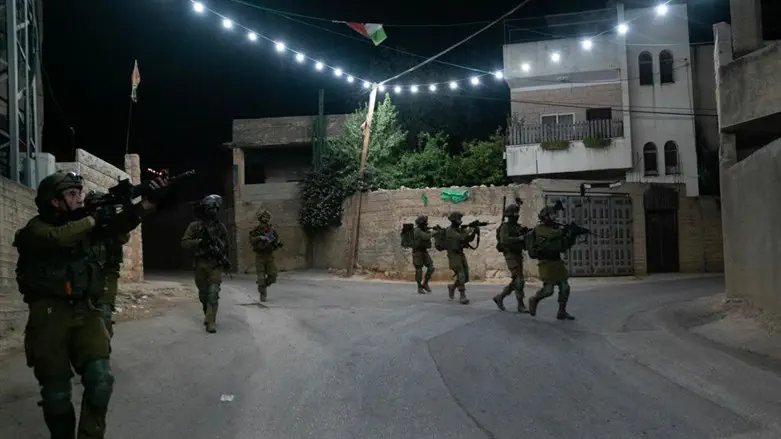 IDF soldiers operating in Judea and Samaria, Archive
IDF Spokesperson
IDF, Shin Bet, and Border Police forces in Judea and Samaria and the Jordan Valley Battalion arrested 16 wanted terrorists on Sunday night, two of whom belonged to the Hamas terror organization.
In the village Shawarwah, which is in the jurisdiction of the Etzion Battalion, forces arrested senior Hamas member Tarkiq Abdullah Ahmad Salim.
During an operation in Wadi al-Far'a, in the jurisdiction of the Jordan Valley Battalion, terrorists fired at the forces, and during an operation in Jericho, terrorists threw a stun grenade. The forces responded with fire, and hits were identified.
In addition, overnight, terrorists shot at several Israeli vehicles near the al-Ziwa Bridge in the Efraim Brigade's jurisdiction, bullet holes were identified in several vehicles.
In addition, several additional vehicles were damaged by improvised spikes that were placed on the road. No one was hurt. IDF forces pursued the terrorists.
Since the beginning of the war, 1,850 suspects have been arrested in Judea and Samaria, of which approximately 1,100 belong to Hamas.