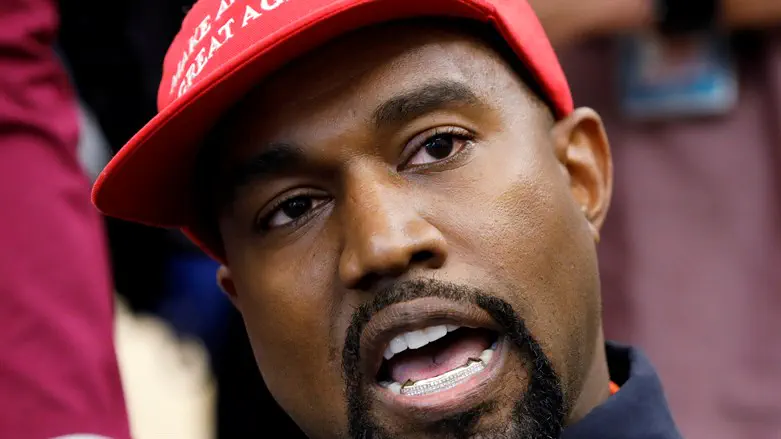 Kanye West
Reuters
(New York Jewish Week) — The internet was flummoxed over the weekend when a photo made the rounds on social media appearing to show Kanye West walking a New York Fashion Week runway wearing a blue shirt reading "Jewish Lives Matter."
Could it be that the rapper and fashion designer, who goes by Ye and last fall launched a stream of antisemitic comments, was engaging in teshuvah — Hebrew for repentance — just before the High Holidays begin on Friday?
Don't hold your breath. The real West appears to be up to his usual antics — crashing a wedding over the weekend in Florence, Italy.
The man wearing the striking blue shirt on the runway Saturday night was actually a West impersonator named Baron Jay Littleton Jr., who goes by "The Kanye Clone" on social media and uses the name Baron Jay in real life.
Jay, who is based in Los Angeles, said it was his idea to wear the "Jewish Lives Matter" shirt while walking at a fashion show at the Conrad New York Downtown hotel in Tribeca for Creators Inc., a social media management company. The show featured the company's creators and other invited guests.
Originally, Jay said the producers of the show asked him to wear a "White Lives Matter" shirt to recreate West's viral moment from his own YZY SZN 9 fashion show for his Yeezy collection during last fall's Paris Fashion Week. That shirt sparked a social media altercation with Sean Combs, the rapper also known as Puff Daddy and Diddy, that touched off West's stream of antisemitic remarks.
Jay asked to wear a Jewish Lives Matter shirt instead.
Jay's message, he said, was a literal one: "I wanted to convey a message that Jewish lives matter," he told the New York Jewish Week. "My intention behind it is that each culture can rally around each other."
"All ethnicities matter," he added. "Black lives matter, white lives matter."
This was Jay's first time publicly wearing the shirt, which he sells on his website along with other Yeezy-esque apparel and footwear. On the runway, Jay paired the shirt with loose black pants tucked into black leather boots. He also wore black sunglasses and a black baseball cap with the letters 'YZS' on the front, a spoof of West's "YZY" brand.
"I just thought it was a genius concept," Andrew Bachman, the CEO of Creators, Inc., told the New York Jewish Week.
"I thought, 'Screw it, it's good for a viral moment,'" added Bachman, who is Jewish. "Kanye West has made antisemitic marks, so taking someone who looks identical to Kanye West and making that statement is powerful and thought provoking."
Jay's appearance as Kanye wasn't the only part of the fashion show that made waves on the internet. Right after Jay walked, Fred Beyer, a YouTuber known for making outrageous prank videos, crashed the runway. Security tackled Beyer just moments after Jay departed, cutting short his time in the spotlight.
Saturday night's fashion show was not the first time Jay has imitated West: He told the New York Jewish Week that he has been impersonating the rapper for nearly two decades, since West released his debut album, "The College Dropout," in 2004.
"People hire me to do bar mitzvahs, birthday parties, corporate events, meet and greets," Jay said. "Everywhere I go, I'm getting mistaken as Kanye West." In fact, Jay appeared as a stand-in for West in the music video for Jewish rapper Drake's 2015 song "Energy."
The similarities between the two men don't stop at looks. Both are 46 years old and hail from the Midwest — West from Chicago and Jay from Detroit. "We are like two different dimensions on the same earth," Jay told the New York Jewish Week, adding that West has never contacted him about his videos and the two have never met.
After West went viral for his antisemitic outburst, he faced swift backlash, losing a lucrative partnership with Adidas and getting banned from Twitter until Elon Musk bought the platform. Jay said that he lost some gigs because venues did not want to associate with the rapper.
When asked for his thoughts on Kanye's recent words and actions, Jay said, "I would like to create a world where different races are wearing each other's 'Lives Matter' shirts," he said. "Black people wearing 'Jewish Lives Matter; Jewish people wearing 'Black Lives Matter'; Asian people wearing 'Jewish Lives Matter.'"
Though West has used his massive influence to traffic in conspiracy theories, such as saying that the Holocaust did not happen and that "slavery was a choice," Jay channels his Kanye-like appearance for causes he cares about. "I feel like because I look like Kanye West, I'm at an advantage to spread the message and to fill in the gaps that Kanye West is not able to fill in," he said.
His day job is serving as the director of the eponymous Baron Jay Foundation, which he founded in 2002 with the aim of empowering underprivileged youth in the Los Angeles area, where he now lives.
"I really am able to resonate with these kids more and get them to trust me because I look like Kanye," he said. He said he puts the proceeds he makes doing gigs as Kanye West back into his foundation.
For now, however, Jay is currently still in New York City, where he will perform Monday night in a "Jay-Z & Kanye West Hip-Hop Legends Tribute Show" at the 333 Lounge in Park Slope.
On X, the platform previously called Twitter, a screenshot of the outfit is circulating from user Yaakov Langer, a Jewish podcaster whose tweet incorrectly stated that West is the one who wore the "Jewish Lives Matter" shirt. Users joked that the image seemed slightly off.
"This is Kanye East…." one responded.
"That's Kanye Ma'arav," another said, using the Hebrew word for West.
"I wish this was real," a third said.