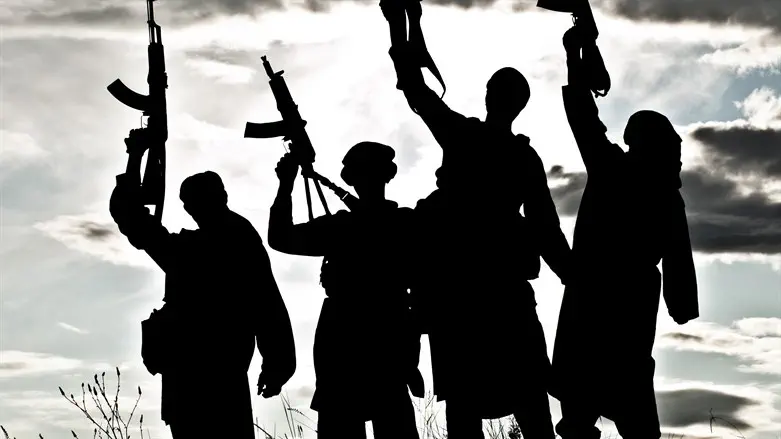 Jihadists (illustration)
iStock
German prosecutors on Thursday announced the arrests of two Syrians suspected of belonging to foreign terrorist organizations, including the alleged leader of a rebel group which joined the Islamic State (ISIS), the AFP news agency reported.
The two, were identified as Amer A. and Basel O., were detained in Kiel and Munich on Wednesday and placed in pre-trial detention, federal prosecutors said in a statement.
Amer A. is alleged to have founded the "Liwa Jund al Rahman" in 2013 in the Syrian province of Deir ez-Zor. His fighters "repeatedly engaged in hostilities against the Syrian army", it said.
In June 2013, Amer A.'s fighters joined other jihadist groups in an attack on the eastern village of Hatlah that killed up to 60 Shiite residents.
Amer A. is suspected of having committed a war crime "by means of forced displacement" that "meant the end of all Shiite presence in Hatlah".
In 2014, Amer A. joined ISIS and placed his fighters and financial resources under ISIS authority, according to prosecutors.
Basel O. is alleged to have held "a prominent military position" in Amer A.'s organization in 2013-2014. The suspect commanded combat units that fought Syrian troops, notably at Deir ez-Zor's military airfield, the statement said, according to AFP.
Germany has arrested several Syrians on its soil over crimes committed in their country.
In April, German authorities arrested a Syrian man on suspicion of planning to carry out an explosives attack motivated by Islamic extremism.
Germany has been hit by several terrorist attacks in recent years. The worst such attack took place in December of 2016, when Tunisian terrorist Anis Amri killed 12 people and injured dozens more when he drove a truck into a Christmas market in Berlin.
In an attack in 2021, a knife-wielding attacker killed one tourist and seriously injured another in the city of Dresden.
In January, a knife-wielding man described as a "stateless Palestinian" fatally stabbed two people and injured seven others on a train traveling from Kiel to Hamburg before he was arrested.