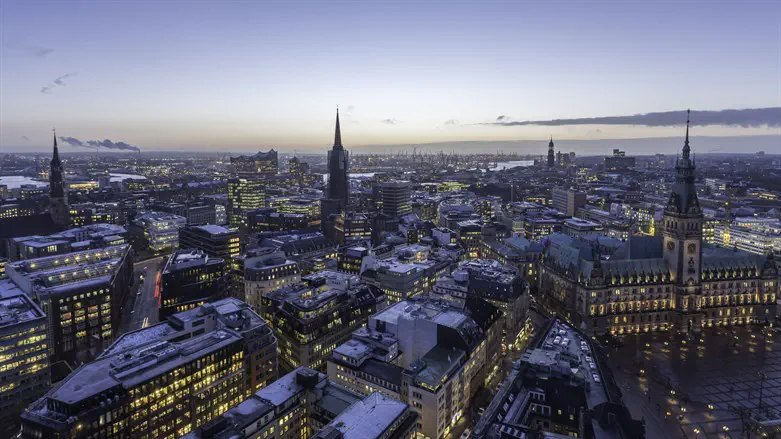 Hamburg
iStock
German authorities have arrested a Syrian man on suspicion of planning to carry out an explosives attack motivated by Islamic extremism, officials said Tuesday, according to The Associated Press.
Federal police said officers arrested the 28-year-old man early Tuesday in the northern city of Hamburg based on a court-issued warrant for suspected terrorism financing offenses.
Investigators say the man is suspected of trying to obtain substances online that would have allowed him to manufacturer an explosive belt "in order to carry out an attack against civilian targets."
Police said the man was encouraged and supported in his action by his 24-year-old brother, who lives in the southern town of Kempten. German news agency dpa reported that the younger man was also detained.
The brothers, whose names were not immediately released, were described by federal police as being motivated by "radical Islamist and jihadist" views.
Police searched properties in Hamburg and Kempten, seizing large amounts of evidence including chemical substances, officials said, according to AP. Some 250 officers were involved in the operation.
Meanwhile, authorities in western Germany said Tuesday that they are investigating a possible extremist motive in an attack at a gym in Duisburg last week.
A 26-year-old Syrian was arrested days after the attack, in which four men were seriously wounded and one of them remains in life-threatening condition.
Germany has been hit by several terrorist attacks in recent years. The worst such attack took place in December of 2016, when Tunisian terrorist Anis Amri killed 12 people and injured dozens more when he drove a truck into a Christmas market in Berlin.
In 2019, a neo-Nazi tried to storm a synagogue in Halle on the Jewish holiday of Yom Kippur. When he failed to enter the synagogue, he murdered two passersby.
In an attack in 2021, a knife-wielding attacker killed one tourist and seriously injured another in the city of Dresden.
In January, a knife-wielding man described as a "stateless Palestinian" fatally stabbed two people and injured seven others on a train traveling from Kiel to Hamburg before he was arrested.