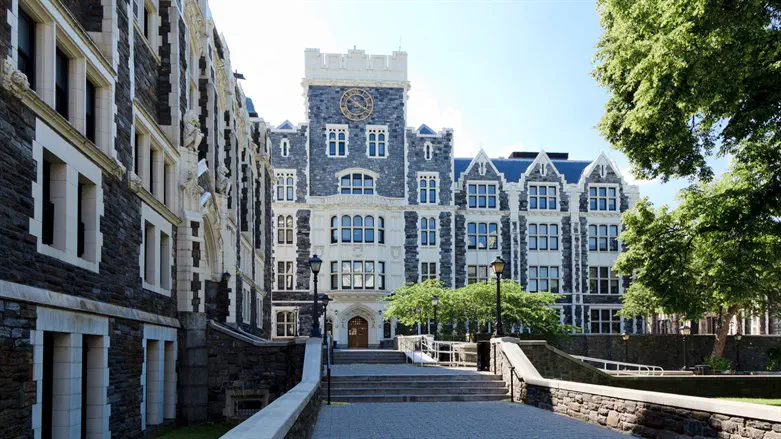 City University of New York (CUNY)
iStock
A top official at the City University of New York (CUNY) will be stepping down from her role days after hiring former CNN commentator Marc Lamont Hill, who is notorious for antisemitic remarks, JNS reported on Thursday.
Chancellor Matos Rodríguez announced that Robin L. Garrell, president of CUNY's Graduate Center, will conclude her position after three years, stepping down at the end of September, according to the report.
"CUNY will appoint an interim president in the coming weeks and launch a national search for her successor in the near future," Rodriguez said in a statement.
"In the meantime, we congratulate President Garrell on her accomplishments, thank her for her service to the Graduate Center and CUNY, and wish her well in her future endeavors," Rodriguez wrote.
Garrell had previously come under fire when she hired Hill as a "presidential professor" for Urban Education at CUNY's Graduate Center.
CNN cut ties with Hill in 2018 after he called for Israel's elimination, saying "justice requires" a "Free Palestine from the River to the Sea," a phrase that has long been used to call for the destruction of Israel and its replacement by a Palestinian Arab State.
During his speech at the United Nations, Hill also appeared to endorse violence against the State of Israel.
In 2019, Hill produced a documentary film featuring a Palestinian Arab terrorist convicted of bombing civilian targets in Jerusalem.
Hill also came under fire that year for denying Mizrachi Jewish identity, claiming it had been invented for political purposes.
While the CUNY Chancellor's announcement about Garrell's departure did not list a reason, and there was no indication that it was related to the hiring of Hill, opponents of that decision welcomed Garrell's departure.
Former New York state assemblyman Dov Hikind, who currently heads the Americans Against Antisemitism organization, said that "the ouster of the CUNY Graduate Center president sends a powerful message to CUNY campus officials to stop hiring Jew-haters."
Inna Vernikov, a Republican city council member from Brooklyn, N.Y., said that while "I must credit the CUNY chancellor for quickly making sure the president who made this awful decision resigns, every day that Marc Lamont Hill keeps his job at CUNY is a stain on this institution. He must be next."
She added that "Hill must be relieved from his post immediately" and vowed that she would "work tirelessly to make sure it happens."