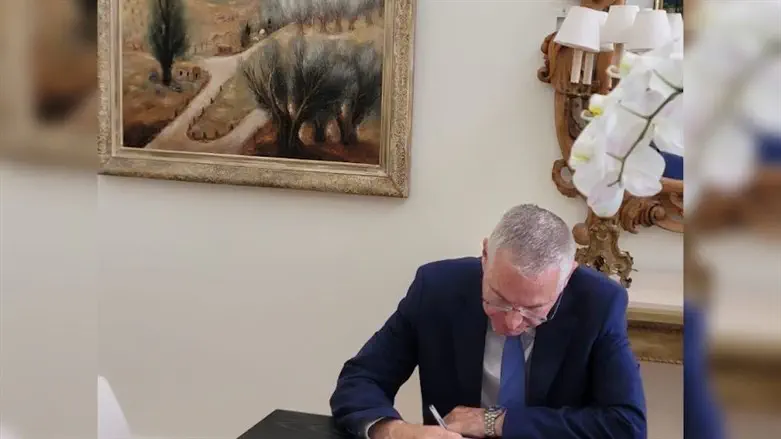 Signing the MOU
Courtesy
Israeli Ambassador to the US Michael Herzog and US Ambassador to Israel Tom Nides signed a memorandum of understanding today (Wednesday) which brings Israel closer to joining the US Visa Waiver program by allowing any US citizen to enter Israel.
"I was privileged today to represent the government of Israel in signing a U.S.-Israel memorandum of understanding on the extension of reciprocal privileges in the visa waiver program. This is a significant milestone towards Israel joining the program. Thank you to everybody on both sides who worked so diligently towards this goal, especially my colleague and dear friend Ambassador Tom Nides and DHS Under Secretary Rob Silvers, for their significant contributions," Ambassador Herzog said.
Israeli National Security Adviser Tzachi Hanegbi praised the agreement, saying: "This procedure will allow any American citizen to enter Israel, and subsequently, with the acceptance of Israel as a member of the program, will allow any Israeli to enter the USA without the need for a visa. The full application of the procedure will apply to any American regardless of who he is, including Americans with dual citizenship, Americans living in Judea and Samaria and Americans living in the Gaza Strip."
"The implementation of the procedure strengthens the indisputable ties between the two countries and contributes directly to Israel's security.
"This is a very important milestone, bringing us closer to fully complying with the conditions of the US government regarding candidacy for the exemption program. This achievement is the result of the dedicated and energetic professional work of many elements in the Israeli and American public system, led by the US Ambassador to Israel Tom Nides, who worked hand in hand throughout long months for its successful completion," Hanegbi said.
The US Department of Homeland Security (DHS) responded, "DHS welcomes these steps by Israel toward meeting the Visa Waiver Program requirements. The United States will engage with the Government of Israel on its implementation of its new travel policies. For entry into the Visa Waiver Program, all of the Program's mandatory requirements must be satisfied. The Department is working closely with the Government of Israel in its efforts to meet those requirements, in furtherance of our shared goal that Israel join the Visa Waiver Program."