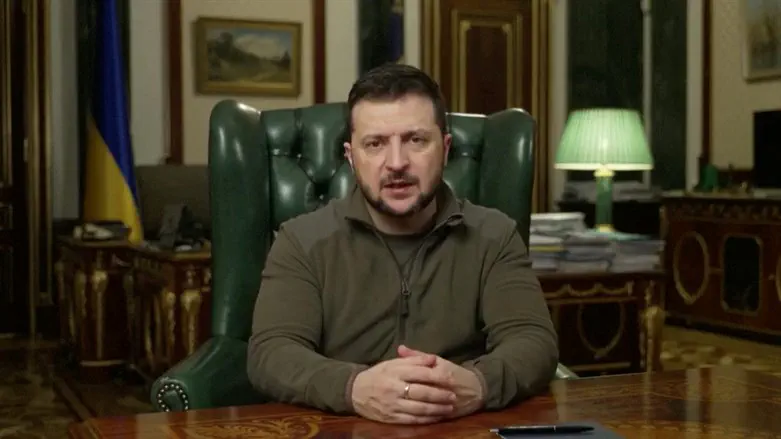 Volodymyr Zelenskyy
Ukrainian Presidential Press Service/via Reuters TV/Handout via REUTERS
Ukrainian President Volodymyr Zelenskyy said on Wednesday that he had invited Prime Minister Benjamin Netanyahu to visit Ukraine, but Netanyahu has yet to accept his invitation.
Zelenskyy, who was responding to a question from Israel's public broadcaster, Kan 11 News, also said his country had asked Israel for military aid but did not receive it.
"Mr. Netanyahu was invited to Kyiv, and I also invited the two prime ministers who preceded him to Ukraine. In the meantime, the prime ministers change, and the result is the same," said the Ukrainian President.
"Regarding the Iron Dome and other air defense systems that we would like to receive from our partners in Israel: We asked for them at the beginning of the war, but the result is like the example of the prime ministers. Months have passed, with no result. Ukraine is very interested in preserving the important, historical, close relations that we have [with Israel]," Zelenskyy added.
Israel has delivered several tons of humanitarian assistance and defensive equipment to Ukraine during the war, but has stopped short of selling advanced weapons to Kyiv, fearing such a move could create tension with Russia and harm Israeli security interests in Syria.
Zelenskyy was critical of the previous government and denounced the lack of aid from Israel during the war with Russia, saying his country got "nothing" from Israel.
He later reversed course and said he sees a "positive trend" in Kyiv's relations with Israel after the two countries shared intelligence about Russia's purported use of hundreds of Iranian drones in the war in Ukraine.
In February, the Ukrainian President expressed hope that Israel would choose Ukraine's side in his country's war against Russia.
"It was difficult to change [Israel's] positions because Israel has a complex situation with Russia – Iran and Syria etc. However, I very much would like them to be not a mediator in this war but to choose a side. And I would wish they would choose the side of Ukraine," Zelenskyy said at the time.