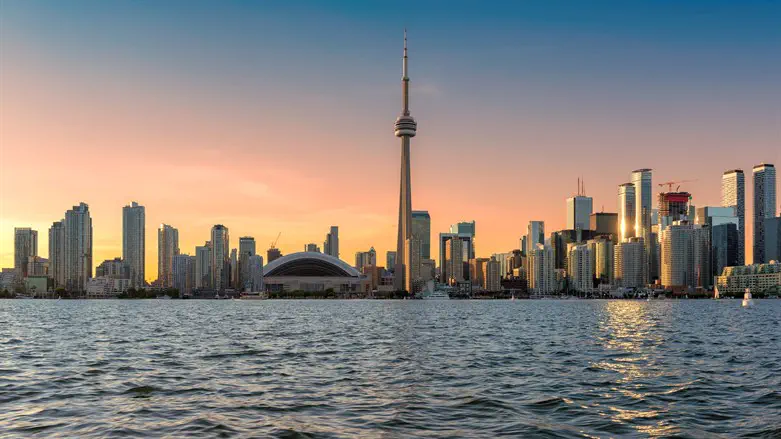 Toronto
iStock
Toronto is home to one of the world's largest Jewish communities, nearly half of the 335,000 Jews in Canada. But until last week, the city did not have a dedicated Holocaust museum.
The Toronto Holocaust Museum opened its doors on Friday, with a ribbon-cutting ceremony attended by an array of dignitaries and Holocaust survivors. Aimed at young learners who will inherit a post-survivor world, the space centers around 11 kiosks where large-as-life survivors share their testimonies through interactive videos. Its four galleries explore Jewish and minority persecution in both Europe and Canada, World War II atrocities and the beginnings of new life in Canada for thousands of refugees.
"What we set out to do from the very beginning was to ensure that this was a place to hear from survivors long after they're gone," the museum's Executive Director Dara Solomon told the Jewish Telegraphic Agency. "Bringing the Holocaust survivors in to see how we've done that, and having them really happy and fulfilled, has been one of the most meaningful experiences of my personal and professional life."
While the center tells human stories from a genocide, it de-emphasizes the panoply of horror that some have come to expect from a Holocaust museum. In its gallery dedicated to the atrocities, some materials — such as images of mass killings in pits on the outskirts of towns — are stored in drawers that must be pulled out by willing viewers.
"We made some very conscious decisions to not use the incredibly graphic imagery I grew up with, because we know that students don't learn as well as people have thought they did when they're sad," said Solomon. "If you're making them sad and scaring them, the learning actually shuts down."
The United States Holocaust Memorial Museum has advised Holocaust educators to use graphic material "judiciously" and "only to the extent necessary" to achieve learning objectives. Graphic images and texts can exploit students' emotional vulnerability instead of encouraging them to think critically in a safe environment, according to USHMM guidelines.
Created by the United Jewish Appeal (UJA) Federation of Greater Toronto, the 9,500-square-foot museum opened on the federation's Sherman Campus, a Jewish community center that also hosts a theater, a daycare and other communal buildings. Solomon hopes this location will help facilitate connections between the historical exhibits and daily Jewish life in Toronto.
The Toronto Holocaust Museum replaces the city's Holocaust Education and Memorial Centre, founded in 1985 by local survivors who wanted to share their stories with students. The previous space had only a small number of exhibits and was half the size of the new museum.
Along with recorded testimonies, visitors at the new museum can now see artifacts that have never been shared with the public. Those items range from a striped prisoner uniform, standard in the Nazi concentration camps, to a gift sent from a mother in the Ravensbrück camp to her children in 1942.
Marketa Brady made three heart-shaped charms at the camp from a chewed-up bread ration painted with toothpaste for her son George and daughter Hana, who were still not captured in Czechoslovakia. Marketa, her husband Karel and 13-year-old Hana Brady were eventually killed at Auschwitz, but George survived and kept the charms. His sister's life inspired the 2002 nonfiction book "Hana's Suitcase," by Karen Levine, which is widely studied by children in Canada. The charms are available on view at the new museum.
Also housed in the museum is a Torah that survived Kristallnacht, the night when the Nazis destroyed Jewish homes, businesses and synagogues throughout Germany and Austria in November 1938. A Catholic priest rescued the Torah from a burning synagogue in the town of Brand. At the end of the war, he handed it to young U.S. army chaplain Gunther Plaut, who brought it home in a bazooka case.
Plaut eventually became a rabbi in Toronto and entrusted the scroll to the future Toronto Holocaust Museum before he died in 2012. The creation of this space has been delayed several times, said Solomon, and many Canadian survivors have hoped for decades to see it become a reality.
"We haven't really had a museum in the city to collect these artifacts, so a lot of families have been holding onto them — just waiting for this museum to be built," said Solomon.