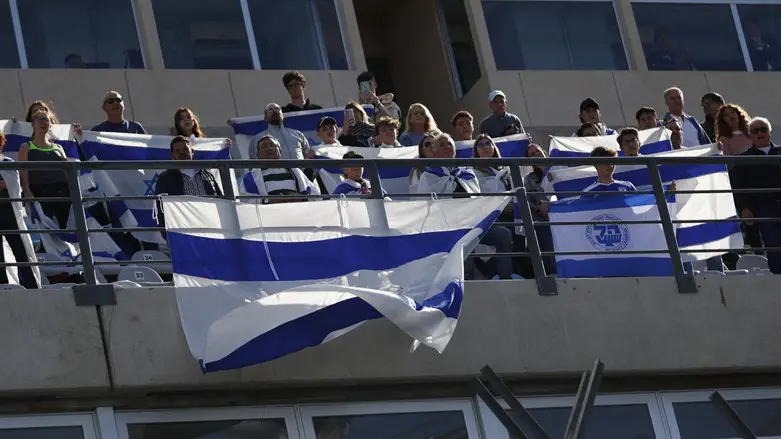 Israeli fans in Argentina
Reuters
Israel's magical run in the Under-20 World Cup of soccer, taking place in Argentina, came to an end on Thursday as it fell to Uruguay 1-0 and failed to qualify for the finals.
Anderson Duarte scored the lone goal of the game for Uruguay, which will participate in the championship match.
Israel, meanwhile, will play in the third place game on Sunday against the loser of the second semifinal between Italy and South Korea.
The Israeli run began when the team made a comeback to defeat Japan 2-1 at the knockout round.
Three days later, Israel advanced to the quarterfinals when it defeated Uzbekistan by a score of 1-0, thanks to a goal that was scored in the 97th minute by Anan Khalaili.
Then, on Saturday night, Israel's Under-20 soccer team stunned the world again by eliminating the Brazilian team in the quarterfinals, with an overtime win, 3-2.
Following Thursday's loss, President Isaac Herzog thanked the team for moving the entire country with their performance throughout the tournament.
"The players of the amazing team, all of whom are the beautiful Israel - you reflect the talented, diverse and cohesive Israeli winning mentality. You taught us a lesson in willpower, determination, courage and most importantly - in making dreams come true. You widened our hearts. We are proud of you!"
Prime Minister Benjamin Netanyahu spoke to head coach Ofir Haim and congratulated the team on its success in the tournament.
"First of all, huge congratulations. You brought great honor to the State of Israel, you have done something that has not been done in Israeli soccer before, and you should be very proud of yourselves. I want you to convey the message to all the players. I invite you to visit the Prime Minister's office when you return to the country."