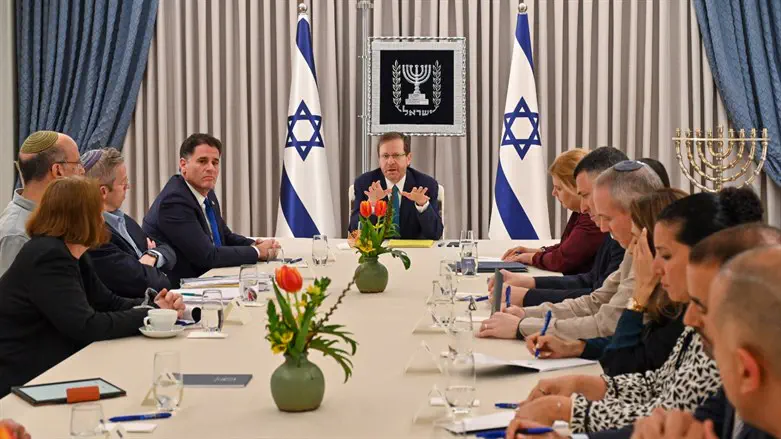 President Herzog conducts judicial reform talks
Kobi Gideon/GPO
The negotiations over the judicial reforms at the President's Residence will be suspended until the end of the selection process for the committee for the appointment of judges in the Knesset, Kan Reshet Bet reported Thursday morning.
According to the report - the opposition is waiting for the results of the vote to see if it will have a representative on the committee - and if in the end it does not have a representative, the talks will not be resumed.
Officials in the opposition factions who are involved in the talks say that the suspension of the negotiations is due to the fact that the coalition members have submitted many nominations for the election of the two Knesset representatives on the committee and the statements of senior coalition members that they are seeking the election of two coalition representatives to the committee for the appointment of judges, which would leave the opposition without representation on the committee.
At this stage the talks are merely suspended for a few days and are not broken off entirely. The opposition is waiting to see what the results of the election of the committee's Knesset representatives will be. If both representatives come from the coalition, the temporary suspension will turn into a permanent withdrawal from the talks.