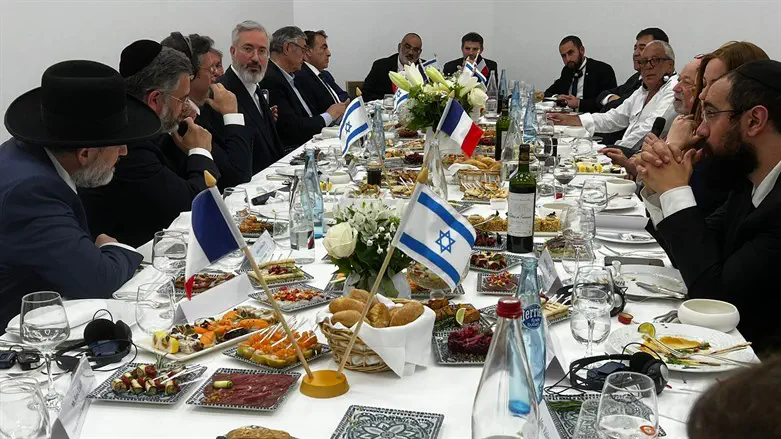 Smotrich meets French Jewish community
Spokesperson
Finance Minister Bezalel Smotrich met on Tuesday evening with community leaders, rabbis and key figures in the Jewish community in France.
At the meeting, participants discussed the fight against antisemitism and the strong relationship between the State of Israel and the Jews of France. The minister discussed the commitment of the Israeli government to Jews around the world and the importance of the relationship between Israel and Diaspora Jews.
Smotrich said at the meeting, "I see great importance in strengthening the deep connection between the State of Israel and the Jews of the Diaspora. When the coalition was established, I requested the Aliyah and Absorption Ministry for my party because we think it is one of the most important ministerial portfolios. It is important for the State of Israel, it is important for the Diaspora, but above all it is important for Zionism. Minister Ofir Sofer is doing great things and is paying full attention to the Jewry of France, the entire of Europe and the Jewry of the US. Strengthening the relationship with world Jewry is Zionism, and it is a first-rate task."
"We are obligated to you, obligated to help you, in the processes with the State of Israel, in the recognition of certificates, in absorption programs, in building communities. The State of Israel is committed to immigration and strengthening the relationship with Diaspora Jewry," he added.
Smotrich commented the economic issues in Israel and said, "In the last few weeks we have brought tidings of stability. We passed a conservative and responsible budget and have received praise for it from international organizations including the rating agencies and the World Bank. Our next fight is a fight that is important to all Israeli citizens - a fight against the cost of living. Together with Prime Minister Netanyahu, we are attacking the fight against the cost of living."
"Carrefour has arrived in Israel, but this is only a first step. We are in an accelerated process of opening markets and reducing regulation. Even during my short trip here, I will meet with a number of significant parties and international companies that are interested in expanding to Israel. The Ministry of Finance, under my leadership, is preparing for a warm welcome - to open up competition and increase markets. This is a task I set for myself and we will achieve it. This is also an important part of Zionism, Zionism is about Aliyah, Zionism is about making life in Israel better, Zionism is the connection with you. Many tasks are ahead of us. With God's help, we will do it and succeed," he concluded.