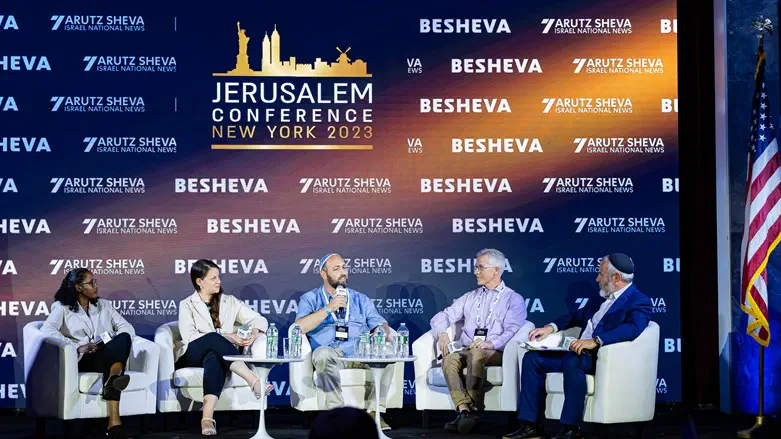 Yishai Fleisher leads a panel discussion on aliyah in New York City
Haim Tuito
Yishai Fleisher hosted a panel discussion on Aliyah (a Hebrew term for immigration to Israel) at the Arutz Sheva Jerusalem Conference in New York City. Immigration Minister Ofir Sofer and Co-Founder and Executive Director of Nefesh B'Nefesh Rabbi Yehoshua Fass joined the panel audience.
Mari Beza, Israel Fellow of the Jewish Agency for Israel at the University of Pennsylvania, told the story of her grandmother coming to Israel: "When my grandmother first came to Israel in 1991, in Operation Solomon, she kissed the Land of Israel itself, and recited the prayer she had been taught in Ethiopia for when she returned to Israel. This story inspired me to do this job at the University of Pennsylvania. She is still alive, and whenever I need to be inspired, I go to her house and listen to her stories."
"I hear some young Ethiopians complain of police brutality. The government needs to do more about that. We are Jews, we cannot be identified as criminals because of our skin. My students see the story of Ethiopian immigration as inspiring, and connect to Israel themselves."
Michal Berman, an art therapist and teacher, told of her experiences immigrating as an IDF Lone Soldier (a soldier with no family in Israel): "I came to Israel from New York through Nefesh B'Nefesh and the Garin Tzabar (a program for foreign soldiers in the IDF). I started my degree in the United States, in art, and I came thinking 'I'm going to be an army painter', and, of course, was told 'That's not a thing'. I became a shooting instructor instead, teaching semi- and fully-automatic weapons. I made incredible connections, both with infantry and other forces that came in to train, and one thing that was really important to me was to see how people of so many backgrounds came into the IDF."
"I can see how people see a disconnect between shooting and art therapy. I saw a lot of people in service struggle with mental health, and that's what inspired me to get into art therapy. I've helped people both in Israel and in other countries, including the United States."
"Being able to touch people through my Tel Aviv art studio is an incredible experience, and I think that being able to help people is part of why people make Aliyah. I think that despite the political divides, people still want to help each other."
Shalom Moskowitz, Founder & CEO of Invendiv, an automated retail technology company, walked through his plans for Aliyah and what came after: "In 2015, we went for a family trip of two weeks in Israel. I realized I wanted to live there, and over the next year and a half, I reorganized my business and decided to move from the solar business to smart vending machines - you have to go with a plan."
"It was crazy, trying to get everything shipped in a container from New York and into our new penthouse. I was very determined, and within a few days I had meetings lined up, and within a few months, I was on a plane to Italy to make a deal with suppliers. Very quickly I had customers. Some of the biggest retailers in Israel are now our customers."
"When people see someone who has a dream and a plan, they want to get behind it - they don't mock it, they want to get behind it. You need a state of mind, an attitude. There are setbacks. You need determination. You can't dwell on it."
Dr. Jason Cohen, a senior doctor specializing in treating PTSD & founder of Holy Butter, spoke about his passion for peanut and almond butter and how it led him to Israel: "In 2011, we made Aliyah with the help of Nefesh B'Nefesh. They were essential in converting my license in anesthesiology to Israel. I commuted regularly to the United States for professional reasons, but when a certain virus, named corona, came in, all travel ceased. My wife insisted that we needed peanut butter: 'Jason, I don't care about your work, we have no peanut butter.'"
"I began to think: Israel is a world leader in agri-tech, so I met with the importers around the world that import from Israel. I began to research different nuts, met with farmers, and found that Israel has the number-one quality peanuts in the world. That is what started my interest in using the world's best peanuts to become the only company in Israel to make pure nut butter."
"Of course, there are setbacks. My personal biggest one is imported peanut butter. The best thing, though, is the tremendous support and respect here."
In addition, that same week, Co-Founder and Executive Director of Nefesh B'Nefesh, Rabbi Yehoshua Fass, took part in a special panel discussing Aliyah, as part of The Jerusalem Post's annual conference in New York. Rabbi Fass reported that "despite previous perceptions of how North American Olim have been portrayed, they are actually very diverse. About 70% of the Olim between the ages of 18-32 identify as non-Orthodox whereas 65-68% of the families would identify as Modern Orthodox with the average age being 32."
Rabbi Fass added that when he walks down the aisles of their charter Aliyah flights, "You can see a beautiful Jewish tapestry with every possible type of Jew present on board, including different ages, affiliations, and demographics. What they all have in common is their Zionist passion and for those thirteen hours, this is what unites them all. I always wish we could extend that special feeling of unity and Jewish pride well beyond the charter experience."