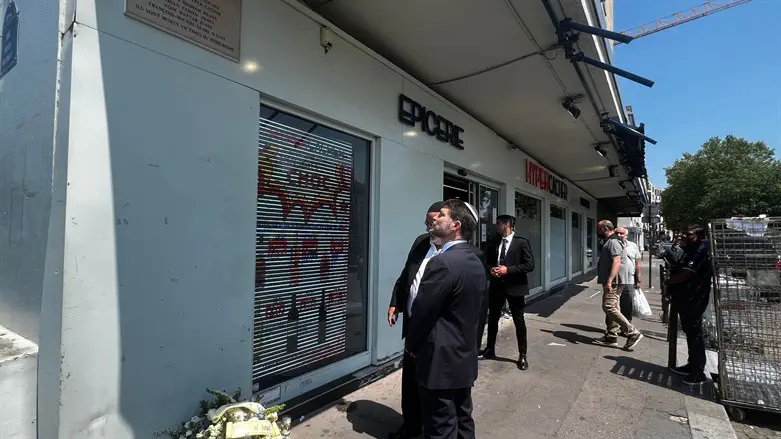 Smotrich at Hypercacher supermarket
spokesperson
Finance Minister Bezalel Smotrich today (Tuesday) visited the Hypercacher supermarket in Paris, the site of a 2015 antisemitic terrorist attack in which four people were murdered.
The minister had a short tour with the director of the Jewish Agency's mission in Europe, Aryeh Abitbul, and lit a candle in memory of the victims.
"Immediately after landing in Paris, it was important for me to come here, to Hypercacher, to the place where the terrible attack that claimed the lives of four people took place in January 2015," Smotrich said. "I came here to strengthen and embrace the Jewish community in Paris. What makes us special as the Jewish people and as a sovereign state is the special connection we have with every Jew in the world."
"I stand here today as a member of the Israeli government which is committed to strengthening our relationship with the Jewish communities and strengthening Jewish identity. Out of mutual commitment, we work to connect all parts of our people wherever they are. The connection is unbreakable and it does not depend on place of origin, opinion or anything else. Am Yisrael Chai (the people of Israel lives)," he said.
The Finance Minister added: "I would like to thank the government in France for its uncompromising war against antisemitism and protection of Jewish life in communities throughout France."
Finance Minister Smotrich took off this morning for the Meeting of the OECD Council at the Ministerial Level, which is to be held in Paris, France. The minister will participate in many discussions around bilateral trade agreements, growth engines and infrastructure promotion between and within the countries. During the convention, Smotrich is expected to hold several meetings with senior OECD officials.
On the sidelines of the conference, Smotrich will meet with the heads and representatives of international companies and local investors who wish to enter the Israeli market as part of the effort to lower the cost of living in Israel.