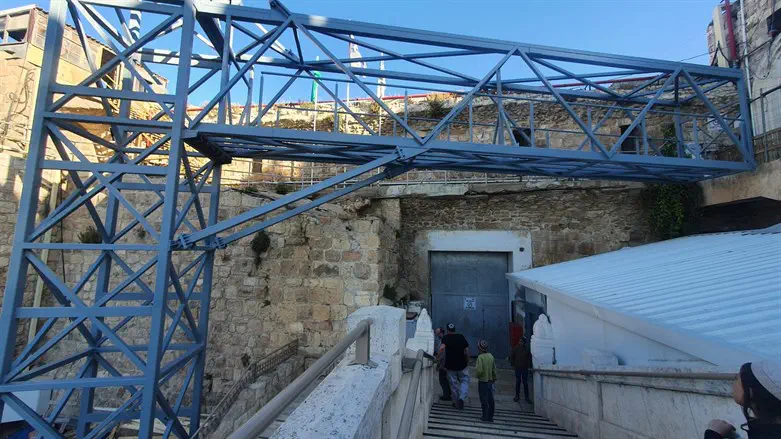 work on elevator at Cave of the Patriarchs
courtesy
The inauguration of the elevator at the Cave of the Patriarchs in Hebron has been delayed to allow Defense Minister Yoav Gallant to participate in the ceremony.
The ceremony, which was supposed to be held this Thursday, is being organized by the Civil Administration and the Defense Ministry. Religious Services Minister Michael Malchieli, the head of the Civil Administration, and the commander of the IDF Central Command have already confirmed their attendance.
This week, the guests expected at the ceremony were informed that the event has been postponed due to "schedule constraints." Israel National News - Arutz Sheva has learned that these constraints stem from Defense Minister Gallant's desire to attend the inauguration. However, Gallant's schedule is so busy that he may still be unable to attend even after the delay.
Shai Glick, the CEO of the B'Tzalmo organization, said: "I welcome the announcement by Defense Minister Yoav Gallant about his intention to participate in the ceremony. At the same time, people have been waiting for many years for the elevator. Every day elderly people find it difficult to come to the location and only today several people were left outside due to the elevator not being opening. I call on the Civil Administration to order the opening of the elevator even before the ceremony so that no one is harmed because of the participation of the Defense Minister."
The Cave of the Patriarchs is one of the holiest sites in Judaism and is believed to be the burial place of the Biblical patriarchs and matriarchs. The Israeli government initiated a project several years ago to construct an elevator at the ancient site to make it disabled-accessible so that people in wheelchairs or who have difficulty with stairs can visit it and pray there.