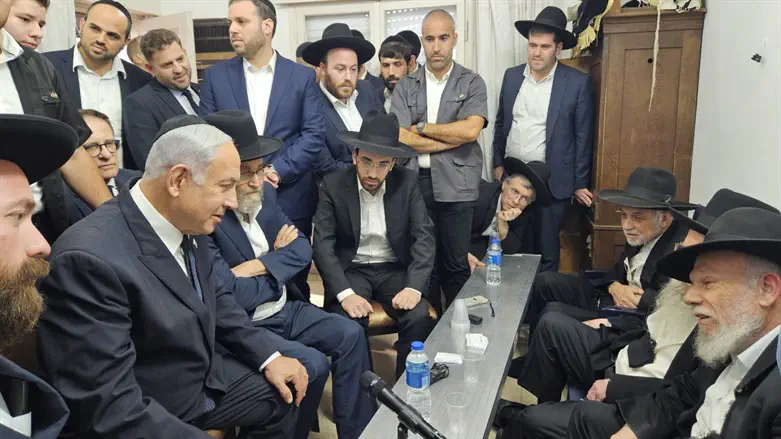 PM Netanyahu with Rabbi Edelstein's family
Courtesy
Prime Minister Benjamin Netanyahu on Wednesday evening paid a condolence call to the family of leading haredi rabbi, Rabbi Gershon Edelstein, who passed away on Tuesday at the age of 100.
Netanyahu arrived at the Bnei Brak home of the late spiritual leader, where his family is spending the traditional "Shiva" mourning period. The Prime Minister was accompanied by Degel Hatorah party chairman MK Moshe Gafni.
Prime Minister Netanyahu's motorcade passes through Bnei Brak:
On Tuesday, hundreds of thousands of people participated in the funeral procession of Rabbi Edelstein.
The funeral procession began with the recitation of the Psalms and other liturgical prayers by the son of the late rabbi at the Ponevezh Yeshiva hall and ended at the Ponevezh cemetery in Bnei Brak.
The funeral procession was secured by thousands of police officers after a special operation for a mass funeral procession was announced by the Tel Aviv district. When the body was taken out of the Yeshiva hall, the crowd surged forward in order to reach the stretcher holding the rabbi's body, endangering one another, and a police officer had to call for the public to back away from the stretcher and refrain from climbing on roofs and fences in order to see better.