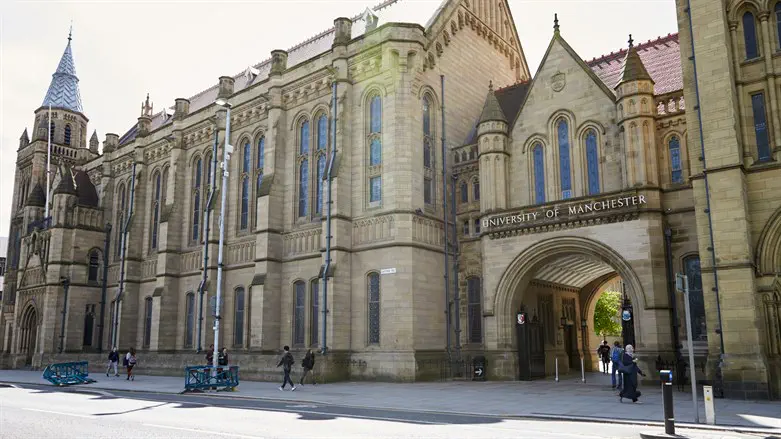 British university (illustrative)
iStock
The British trade union that represents university academics and lecturers is under fire after supporting a pro-BDS motion containing antisemitic language comparing Israel to Nazi Germany.
The University and College Union (UCU) held its annual convention recently in Glasgow in which delegates passed a motion confirming their support of the BDS movement. The resolution stated that it was passed in the "honourable tradition" of social protests, citing the "boycotts of Nazi trade," the UK Jewish News reported.
The resolution titled "Israel oppression and the right to boycott" was voted on at the conference on Saturday. The union said on its website that members voted to "fully support the Right to Boycott campaign."
The resolution included a statement comparing Israel to slavery, Apartheid South Africa and Nazi Germany: "Congress believes that civil society boycotts have an honourable tradition from anti-slavery campaigns through boycotts of Nazi trade to isolation of Apartheid South Africa."
Two other anti-Israel motions were debated and passed at the conference.
We Believe in Israel director Luke Akehurst denounced the motion as Holocaust inversion and called it "grotesque and antisemitic."
"To justify this on the basis that it is part of the same tradition as anti-Nazi boycotts is deplorable on every level," he told the news outlet.
"It's Holocaust inversion – taking the Jewish people who were victims of Nazi genocide and making a ridiculous, offensive and deliberately hurtful attempt to compare the state that provides a refuge to Jews, including holocaust survivors, to the regime that committed the genocide against them."
UCU member David Hirsh, a lecturer at Goldsmiths University in London, told the Jewish News that many UCU members fought against the antisemitic motions but were defeated by activists in the union who had the support of union officials.
"Yes, there is a tradition of honourable boycotts but there is also a tradition of boycotting Jews, who have been excluded from all contact with Christians; from crafts and professions, from universities; who were ghettoised and excluded from whole countries. The Nazis tried to exclude Jews from humankind altogether," he said.
"Reasons were always given, just as they are in UCU, why Jews, and only Jews, should be subjected to this treatment. Antisemites always think they are the victims of the Jews."