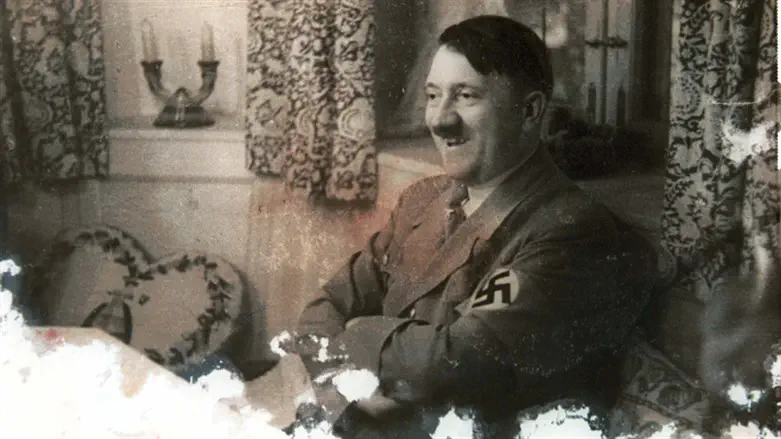 Adolf Hitler (reproduction)
Flash 90
A silver-plated pencil purported to have belonged to Nazi leader Adolf Hitler will be auctioned off in Belfast next month and is estimated to sell for between £50,000 and £80,000, The Guardian reported on Monday.
The pencil is believed to have been a gift Hitler from his long-term partner Eva Braun for his 52nd birthday on April 20, 1941, according to the report.
The pencil, originally bought by a collector at an auction in 2002, has an inscription in German, ending in "Eva", and has the initials "AH".
The sale of wide-ranging historical items at Bloomfield Auctions in east Belfast on June 6 will also include an original signed photograph of Hitler and a rare hand-written pardon by Queen Victoria dated to 1869 for Irish rebels convicted of treason.
Karl Bennett, managing director of the auction house, said they expected interest from around the world.
"The importance of Hitler's engraved personal pencil lies in the fact that it helps to unravel a hidden piece of history, giving a unique insight into Hitler's personal relationships, which he scrupulously kept hidden from the public eye," he said, according to The Guardian.
Bennett added that he could understand why people may have reservations about selling and collecting items belonging to the Nazi leader.
"But for me, as a high-end collector of militaria items, they preserve a piece of our past and should be treated as historical objects, no matter if the history they refer to was one of the darkest and most controversial in recorded history," said Bennett.
This is not the first time that items belonging to Hitler have been auctioned off. Last year, a watch said to have belonged to Hitler sold for $1.1 million at an auction in Maryland.
Jewish leaders had condemned the auction ahead of the sale at Alexander Historical Auctions but the auction house - which has sold Nazi memorabilia in the past - told German media its aim was to preserve history.
In 2019, a Munich auction house sold items belonging to Hitler, as well as of infamous Nazis Hess, Goering, and Himmler.
A prominent Lebanese businessman, Abdallah Chatila, later bought over 600,000 euros of the items, with the sole purpose of giving it to the Jewish community to do with it as it sees fit. Chatila was later honored by the Conference of European Rabbis (CER) for his actions.