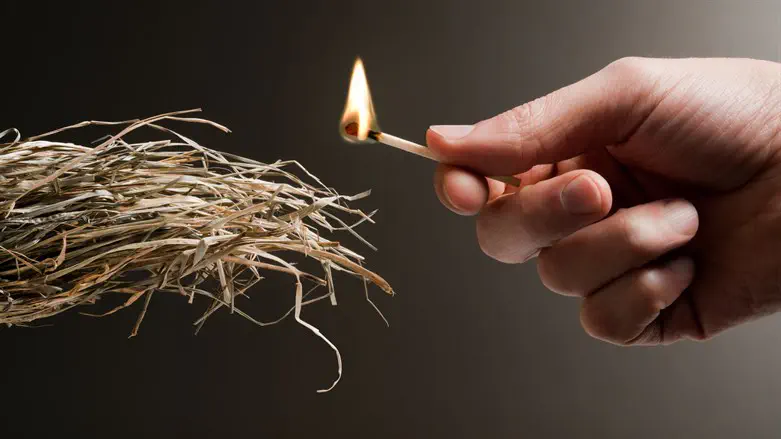 Arson
iStock
An arsonist destroyed a Mitzvah Tank in the Crown Heights section of Brooklyn, New York overnight Thursday, causing severe damage to the tank and the items inside it.
A 'Mitzvah Tank' is a minibus or van generally decorated and outfitted as a miniature mobile outreach center to bring elements of a religious Jewish lifestyle to neighborhoods or individuals which would otherwise forgo them.
The StopAntisemitism organization described the aftermath of the fire as "horrifying."
"The Mitzvah Tank, started by Rabbi Pevzner to assist Jews with teffilfin, overall Torah studies, and do good deeds, went up in flames last night," they wrote on Twitter.
They added that the NYPD suspect arson. The advocacy organization noted that the the Mitzvah Tank was previously vandalized with graffiti that said "Palestine."
The mobile center was parked on the street ready to start the day with outreach to Jews to perform a mitzvah, according to Anash.org.
While firefighters were called and quickly arrived to put out the flames, the Mitzvah Tank suffered major damage to its interior and exterior, the report said.
An investigation has been opened by the NYPD who have a suspect.
Rabbi Yehuda Pevzner, director of the Mitzvah Tank, told Anash.org that he would not allow the incident to stop his work.
"I will not allow this to stop our activity and I'm starting now on my work to get the funding for a new Mitzvah Tank," he said.
In February, the Mitzvah Tank was vandalized for the second time with pro-Palestinian graffiti.
"Our Mitzvah Tank was once again hatefully vandalized. Same location (Manhattan's busiest traffic corridor)," Rabbi Pevzner said. "NYPD detectives are investigating and we hope that this case is taken very seriously."
The Mitzvah Tank was first vandalized with pro-Palestinian graffiti in November 2022.
A statement from Rabbi Pevzner explained that their "state-of-the-art Mitzvah Tank was defaced and graffitied in a hateful attack [while] parked in the heart of SoHo, on Broadway."
He added that Mitzvah Tank NYC "proudly serves the communities of lower Manhattan, offering Jewish people the opportunity to perform mitzvoth," and that they also conduct "volunteer work with those less fortunate, including the larges homeless population whose we have come to befriend over the years."