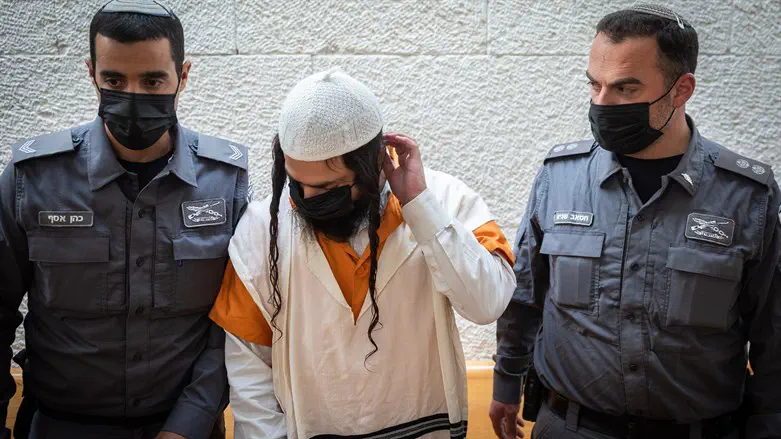 Amiram Ben Uliel
Yonatan Sindel/Flash90
Amiram Ben Uliel will not remain in solitary confinement for the Shavuot festival on Thursday night and Friday, thanks to the new policy of National Security Minister Itamar Ben-Gvir.
Instead, he will spend the holiday with another prisoner - with whom he can study and hold the holiday and Shabbat meals.
Ben Uliel had previously been released from solitary confinement for the night of the Passover Seder, which he was allowed to celebrate in the prison's religious wing.
Ben-Gvir has directed the Prison Service to ensure that the conditions of Jewish prisoners be brought in line with those of other prisoners such as Arabs convicted of terrorist actions..
Ben Uliel was convicted of the 2015 Duma arson attack in which three members of an Arab family, including an 18-month old baby, in the firebombing of their home. He was sentenced to three life terms plus 20 years in prison. He has been kept in solitary confinement for the vast majority of the seven and has barely seen his now eight-year old daughter.
Ben Uliel accused the Shin Bet of torturing him to extract false confessions and this was found to be true. Despite that, and despite a lack of hard evidence proving his guilt, in September 2022, the Supreme Court rejected an appeal lodged on behalf of Ben Uliel, arguing that his confession was legally admissible even though lower courts had already invalidated two of Ben Uliel's three confessions, accepting his claim that he was tortured in order to extract them.