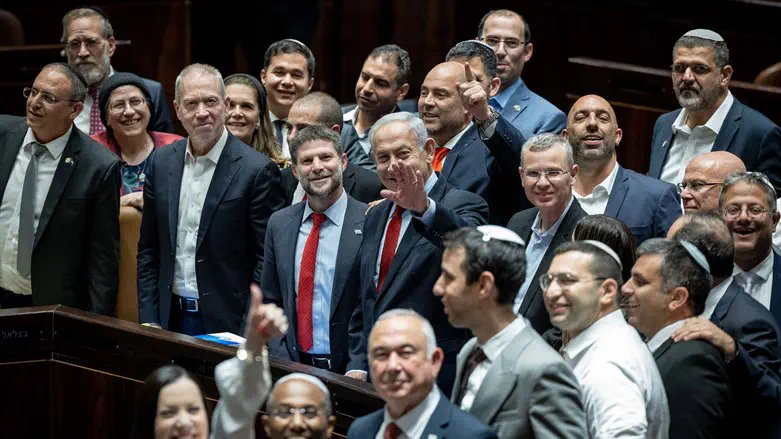 Netanyahu flanked by Coalition lawmakers
Yonatan Sindel/Flash 90
Israeli Prime Minister Benjamin Netanyahu vowed Wednesday to put judicial reform back on the government's agenda, following passage of the state budget.
Speaking with Channel 14 Wednesday morning, shortly after the final vote on the spending plan, Netanyahu laid out the Coalition's goals, emphasizing reducing the cost of living and overhauling the judiciary.
"This is the dawn of a new day. A good day for the citizens of Israel," Netanyahu said.
Regarding the judicial overhaul, Netanyahu said the overhaul "certainly" will be coming back, but added that the government will continue to work with Opposition lawmakers to reach a compromise.
"We are trying to reach an understanding, and I hope we will succeed. The Coalition will be here for four years."
Earlier on Wednesday, the Knesset voted 64 to 55 to pass state budget, five days ahead of the May 29th deadline.
"We won the elections. We passed a budget. We continue for 4 good years," Netanyahu tweeted shortly after the budget was passed.
Former Finance Minister MK Avidgor Liberman (Yisrael Beytenu) called the budget "dark stain" on the "history of the State of Israel."
"The budget amounts, in essence, to a looting of the public coffers and leads to the destruction of the Israeli economy and fatal damage to the middle class, to those who serve in the army, in the reserves, work and pay taxes," he added.