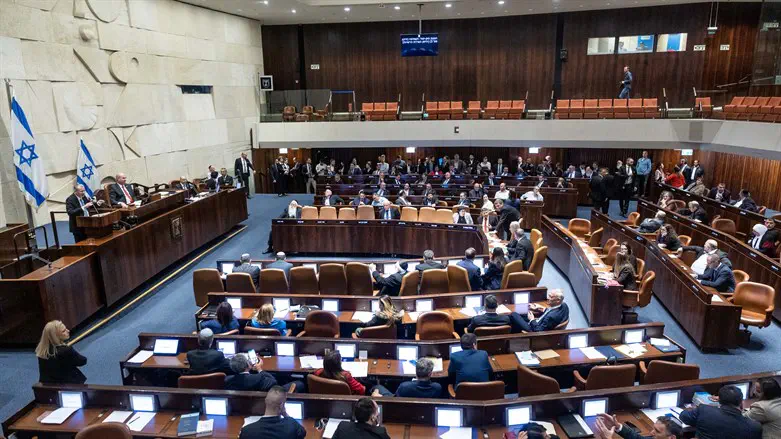 Knesset plenum
Yonatan Sindel/Flash 90
The Knesset on Tuesday night approved the state budget for 2023-2024 in second and third readings. The Arrangements Law for 2023-2024 was approved as well. The law incorporates government bills and legislative amendments that are needed in order for the government to fulfill its economic policy.
The motions were approved by a majority of 64 to 55.
Yisrael Beytenu chairman MK Avigdor Liberman blasted the budget and said, "The budget that passed tonight in the Knesset plenum is a dark stain in the history of the State of Israel."
"The budget amounts, in essence, to a looting of the public coffers and leads to the destruction of the Israeli economy and fatal damage to the middle class, to those who serve in the army, in the reserves, work and pay taxes," he added.
Prime Minister Benjamin Netanyahu welcomed account the passage of the budget on his Twitter account.
"We won the elections. We passed a budget. We continue for 4 good years," he wrote.
Finance Minister Bezalel Smotrich attacked the opposition during the discussion on the budget.
"I heard the speeches, and I came to the conclusion - the opposition is in a position. When there are no relevant arguments, all that remains is to harm, insult and shout - sometimes even in front of an empty plenary. All this is just to get another headline, that has nothing to do with the facts and without knowing the budget and what is in it," said Smotrich.
Later, after the 2023 budget was approved, Smotrich tweeted: "The 2023 budget has passed. We are moving forward."