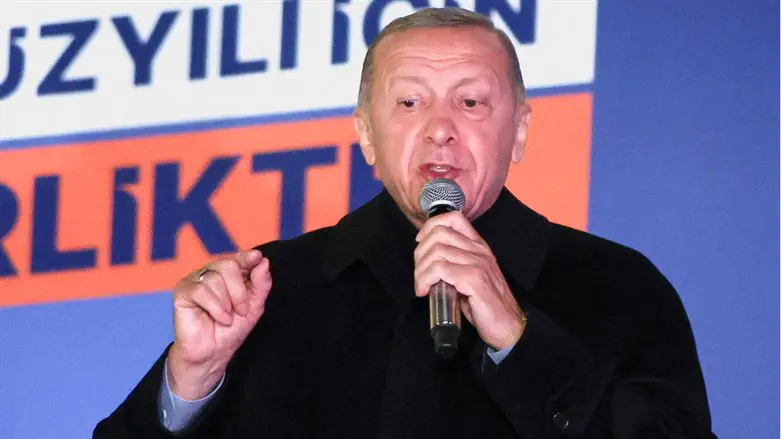 Recep Tayyip Erdogan speaks at AK Party headquarters in Ankara
REUTERS/Umit Bektas
Turkish President Recep Tayyip Erdogan said on Sunday night he has a clear lead over his main rival, Kemal Kilicdaroglu, in elections, adding that it is still unclear if the vote will go to a runoff, Bloomberg reported.
With more than 99% of the ballot boxes opened late on Sunday, Erdogan had 49.4% of the votes, according to state broadcaster TRT. Kilicdaroglu got 44.9% and Sinan Ogan, the third candidate in the race, got 5.3%.
If the results hold and no candidate wins more than half of the total ballots, Turkey will be headed for a second round of voting on May 28.
Erdogan told supporters in the capital Ankara that he believed he can still win in the first round. He added said he's waiting for final ballot results but that it's clear he has the nation's backing.
"We don't yet know if the elections ended in the first round. ... If our nation has chosen for a second round, that is also welcome," Erdogan said early Monday, according to The Associated Press.
He added that votes from Turkish citizens living abroad still need to be tallied. Erdogan garnered 60% of the overseas vote in 2018.
Kilicdaroglu, for his part, said he would accept the people's decision to go to a runoff, noting that Erdogan did not get the result he wanted.
Kilicdaroglu expressed confidence that he would defeat Erdogan in the second round.
Erdogan, 69, has governed Turkey as either prime minister or president since 2003. In the run-up to the election, opinion surveys had indicated he narrowly trailed his challenger.
Kilicdaroglu, 74, has the backing of the nation's broadest-ever grouping of opposition parties. He is running on a promise to restore the rule of law, mend strained ties with the West and return to economic orthodoxy.