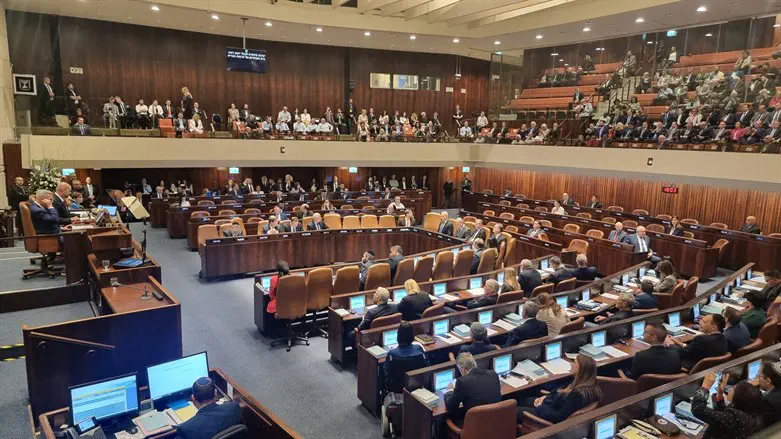 Knesset plenum
Hezki Baruh
The Knesset plenum opened early Monday morning, kicking off a week of deliberations on the government's state budget plan.
Monday's meeting began at 9:00 a.m., rather than 4:00 p.m., for the beginning of hearings on the 2023-2024 spending plan, which must be passed by the May 29th deadline. If no budget is passed by then, the government will automatically collapse, the 25th Knesset dissolved, and yet another round of elections scheduled.
Seven separate pieces of legislation are included in the government's spending package, including two laws for the regular state budgets of 2023 and 2024 respectively, three bills dealing with economic regulatory changes, and two additional supplemental bills.
The preliminary hearings will continue until Tuesday night at 8:30, with Prime Minister Benjamin Netanyahu, Finance Minister Bezalel Smotrich, and Knesset Finance Committee chairman Moshe Gafni addressing the plenum on behalf of the Coalition, and Opposition Leader Yair Lapid also allotted time at the podium.
While the government has a full week before the deadline, the Coalition is aiming to pass the spending plan by the end of the plenum meeting Wednesday evening.
Yet Prime Minister Netanyahu has yet to secure the full support of his government for the current spending plan.
On Sunday, Coalition allies Otzma Yehudit and United Torah Judaism continued to threaten to vote against the budget and topple the government, demanding increased funding for periphery communities and yeshiva students.
"We need to reassess our position in this coalition," said Chairman of the Labor and Welfare Committee, MK Yisrael Eichler (United Torah Judaism). "When there is no judicial reform, no draft law, and no [expanded education] budget, we need to reconsider what we are doing here. Perhaps there is an option called 'elections'."