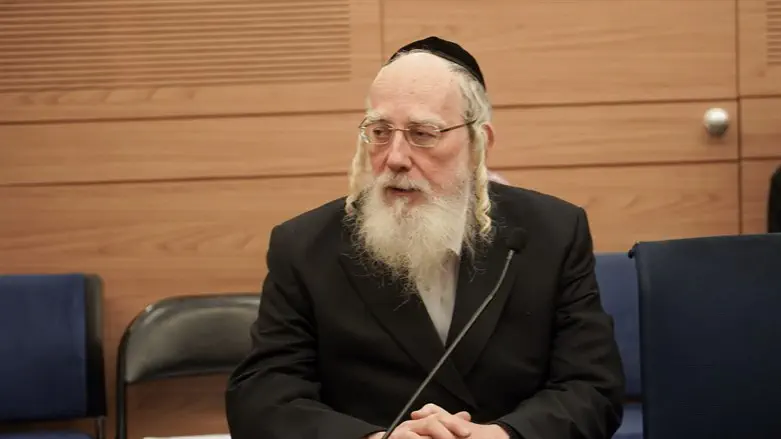 MK Yisrael Eichler
צילום: דני שם טוב\דוברות הכנסת
Chairman of the Labor and Welfare Committee MK Yisrael Eichler (United Torah Judaism) suggested Sunday that haredi lawmakers should consider toppling the government if it continues to fail to deliver on its promises to the haredi sector.
Speaking with journalist Kikar HaShabbat, Eichler said cited the failure of the government to pass the judicial reform plan and the haredi draft law, along with an ongoing spate with the Likud over expanded funding for haredi education.
"We need to reassess our position in this coalition. When there is no judicial reform, no draft law, and no [expanded education] budget, we need to reconsider what we are doing here. Perhaps there is an option called 'elections'."
"If Bibi were a real the leader, he would have passed judicial reform unless there was a military coup against him, and if there was a military coup against him, he would have no control."
In addition to passage of the judicial reform plan and a new haredi draft law, haredi lawmakers have demanded the government increase funding stipends to full-time yeshiva students by at least 600 million shekels in the 2023-2024 budget.
The current spat comes just over a week before the May 29th deadline for passing a state budget. If the government fails to pass a spending bill, it will lead to the automatic dissolution of the Knesset, sending Israel to yet another round of elections.
Earlier on Sunday, Prime Minister Benjamin Netanyahu vowed to "equalize conditions" between schooling in haredi schools in comparison with state-secular schools.
"We will pass a responsible budget one of the goals of which is to equalize conditions between a haredi child to those of a secular child. Haredi children do not need to receive less than secular or religious children because a haredi child is not half a child."
"We must pass the state budget. You know that I have a little experience in this matter, having passed almost 20 state budgets, and I can tell you that there are always last minute arguments. I believe that we will overcome them and pass the budget."