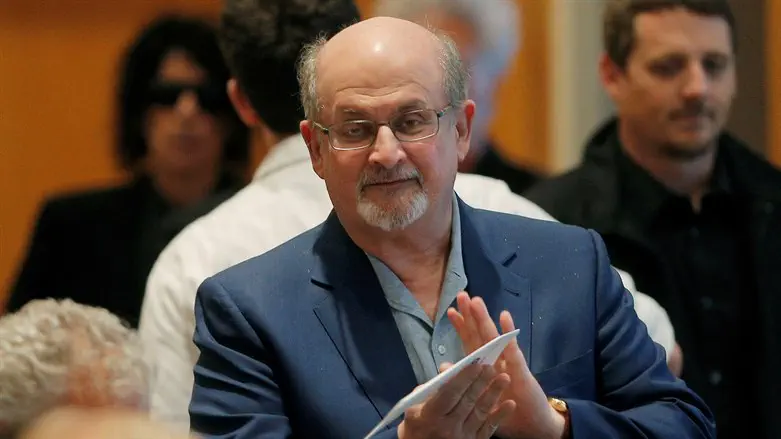 Salman Rushdie
REUTERS/Brian Snyder/File Photo
Author Salman Rushdie on Thursday night made an emotional and unexpected return to public life, attending the annual gala of PEN America and giving the event's final speech as he accepted the PEN Centenary Courage Award, reported The Associated Press.
This was Rushdie's first in-person appearance at a public event since he was stabbed while on stage at a literary festival in Western New York last August.
"It's nice to be back — as opposed to not being back, which was also a possibility. I'm glad the dice rolled this way," Rushdie, 75, told hundreds gathered at the American Museum of Natural History, where he received a standing ovation, according to AP.
Rushdie, whose attendance had not been announced beforehand, spoke briefly, and dedicated some of his remarks to those who came to his help at the Chautauqua Institution, a nonprofit education and retreat center. He cited a fellow attendee, Henry Reese of the City of Asylum project in Pittsburgh, for tackling the assailant and thanked audience members who also stepped in.
"I accept this award, therefore, on behalf of all those who came to my rescue. I was the target that day, but they were the heroes. The courage, that day, was all theirs, and I thank them for saving my life," he said.
"And I have one last thing to add. It's this: Terror must not terrorize us. Violence must not deter us. La lutte continue. La lutta continua. The struggle goes on."
Rushdie was blinded in his right eye and his left hand was badly injured by the stabbing. After the attack, Rushdie was treated at a Pennsylvania hospital, where he was briefly put on a ventilator.
The attacker, Hadi Matar, said in an interview days after the attack he didn't think the author would survive.
Matar wouldn't say if he was inspired by the late Iranian supreme leader Ayatollah Ruhollah Khomeini issuing a fatwa, or edict, calling for Rushdie's death in 1989.
"I respect the ayatollah. I think he's a great person. That's as far as I will say about that," Matar replied, noting he only "read a couple pages" of Rushdie's controversial novel.
The attacker has been incarcerated after pleading not guilty to attempted murder and assault in the August 12 attack on Rushdie.
Rushdie since 1989 has been the target of an Iranian fatwa calling for his murder for allegedly blaspheming Islam and its prophet Mohammed in his book "The Satanic Verses."
In 2012, an Iranian foundation added another $500,000 to the reward for killing Rushdie, raising the total bounty for his death to $3.3 million.
Rushdie spent a decade in hiding after Iran's spiritual leader, Ayatollah Ruhollah Khomeini, issued the 1989 fatwa against him for his book.
Although Iran's foreign ministry in 1998 assured Britain that Iran would do nothing to implement the fatwa, current supreme leader Ayatollah Ali Khamenei in January 2005 reaffirmed that Rushdie was considered an apostate whose murder was authorized under Islam.
(Israel National News' North American desk is keeping you updated until the start of Shabbat in New York. The time posted automatically on all Israel National News articles, however, is Israeli time.)