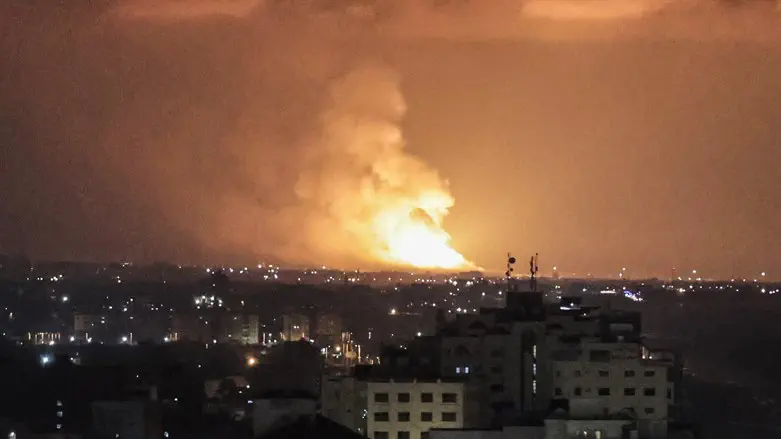 IAF strikes in Gaza
Attia Muhammed/Flash 90
The IDF attacked targets of the Islamic Jihad terrorist organization in the Gaza Strip overnight Wednesday.
The IDF Spokesperson's Unit said, "A short while ago, IDF fighter jets targeted Ali Ghali, the commander of the rocket launching force of the Islamic Jihad terrorist organization in the Gaza Strip, who was in a hideout apartment in Khan Yunis."
Reports were received regarding two additional Islamic Jihad terrorist organization operatives who stayed with him in the hideout apartment who were also targeted.
Ghali was entrusted with the instruction and the launching of rocket fire toward Israel, including the recent barrage of rockets toward Israeli territory as part of operation "Shield and Arrow". Ghali instructed and took part in launching the barrage of rockets toward Israel during operations "Guardian of the Walls" and "Breaking Dawn".
Ghali was entrusted with all routine activity of the force and held a central role in the organization, the IDF said.
The strikes in Gaza came after rocket barrages were fired towards southern Israel up until midnight, despite reports of an imminent ceasefire.
Around 9:00 p.m., a barrage of rockets was fired at communities near the Gaza border and the Lachish area. A rocket directly hit a home in Ashkelon and caused heavy damage. There were no injuries.
According to the IDF, 469 rockets had been launched from the Gaza Strip as of 9:30 p.m., 107 of which fell in the Gaza Strip or in the sea.
333 rockets crossed into Israeli territory and 153 launches were intercepted. At the same time, 133 Islamic Jihad targets were attacked in Gaza.
Additional barrages of rockets were fired at communities in southern and central Israel even after Egyptian media reported that Egypt had brokered a ceasefire agreement between Israel and the terrorist organizations in the Gaza Strip and that it had already gone into effect.
Israeli officials have acknowledged that contacts have been made with the Egyptian government on the possibility of a ceasefire, but have not acknowledged that any agreement has been reached.
At least 270 rockets were fired at Israel on Wednesday afternoon before the reports of a ceasefire.