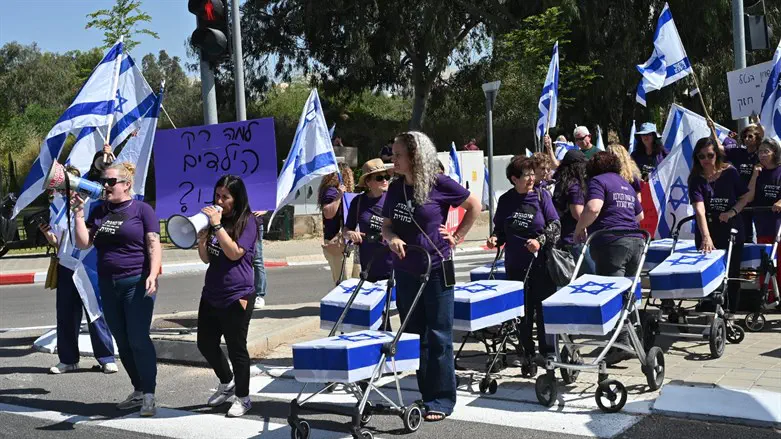 Group of left-wing protesters across from IDF recruitment office in Tel Aviv
Yossi Zeliger/FLASH90
Protesters renewed nationwide rallies today (Thursday) in what protest leaders are calling a "Day of Disruption."
Following negotiations between members of the opposition and coalition MKs at the President's Residence regarding the legal reform and the government's clarification that it will not be promoted unilaterally, protesters are now rallying against the proposed Conscription Law in another attempt to force the government's hand.
The organizers have published a list of dozens of locations nationwide where they intend to hold protests in "two waves of disruptions." The events began in the morning with a series of marches and demonstrations and will resume this afternoon.
In the evening, a protest will be held in front of Justice Minister Yariv Levin's residence and a demonstration at Karkur Junction. During the demonstrations, major highways are expected to be blocked, and there is a fear of heavy traffic congestion.
The "Brothers in Arms" protest held in Bnei Brak is calling for an equal army duty for haredi conscripts along other members of society. Protesters opened a fake "recruitment office" in the haredi neighborhood of Bnei Brak this morning. "Hundreds of reserve duty soldiers arrived this morning at the home of Rabbi Gershon Edelstein, the head of the Council of Torah Sages, and the Ponevezh Yeshiva in Bnei Brak to make it clear to them that the government has unilaterally violated the contract it had with the citizens who bear the security and economic burden," they announced.
"The contract that was broken is dead and a new contract must be drawn up in which the haredim will also be required to bear the burden. The legal coup proved how fragile our democracy is, therefore in the new contract anyone who demands to take part in the management of the state and influence its character will also be required to bear the burden like everyone else. We are done being suckers."
Dozens also gathered outside the house of Finance Minister Bezalel Smotrich and held a morning prayer. The demonstrators, who dubbed themselves "Religious Zionist Democrats" told Smotrich that "True religious Zionism strengthens the army and the people instead of leading to its destruction."
Leftist protesters also gathered at Minister Itamar Ben-Gvir's residence in Kiryat Arba, bringing with them fake carcasses made to look like dead bodies.
"Now it's your term. There are three times more terror victims, four times more missiles [from Gaza], the Arab sector is seeing five times the violence it saw under the previous government," said one of the protesters.