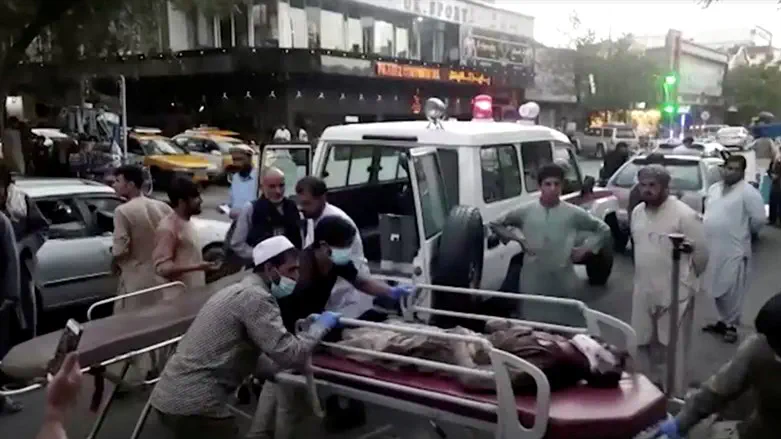 People carrying an injured person to a hospital after an attack at Kabul airport
REUTERS TV/1TV/Handout via REUTERS
The Taliban have killed the senior Islamic State (ISIS) group leader behind the August 2021 suicide bombing outside the Kabul airport that left 13 US service members and about 170 Afghans dead, the father of a Marine killed in the attack said on Tuesday after being briefed by military officials, reported The Associated Press.
Over the weekend, the US military began to inform families of the 11 Marines, the sailor and the soldier killed in the blast at Abbey Gate during the chaotic US withdrawal from Afghanistan. Those family members shared the information in a private group messaging chat, according to the mother of another Marine.
The account from the families to AP was confirmed by three US officials and a senior congressional aide.
The ISIS leader, whose identity has not yet been released, was killed in southern Afghanistan in early April as the Taliban conducted a series of operations against the Islamic State group, according to one of the officials. The Taliban at the time were not aware of the identity of the person they killed, the official added.
Darin Hoover, the father of Staff Sgt. Darin Taylor Hoover, said the Marines provided only limited information to him Tuesday and did not identify the Islamic State leader or give the circumstances of his death.
The August 2021 blast came hours after Western officials warned of a major attack, urging people to leave the airport. That advice went largely unheeded by Afghans desperate to escape the country in the last few days of an American-led evacuation before the US officially ended its 20-year presence.
The Afghanistan-based offshoot of the Islamic State, known as ISIS-K, with up to 4,000 members, is the Taliban's most bitter enemy and top threat militarily. The group has continued to carry out attacks in Afghanistan since the Taliban takeover, especially against the country's minority groups.
In November of 2021, the group claimed an attack on a military hospital in Kabul in which at least 19 people were killed and 50 more were wounded.
A month earlier, ISIS-K claimed responsibility for a suicide attack on a mosque in Afghanistan's northeastern Kunduz province, which killed 46 people and wounded more than 140.
In 2014, American intelligence listed ISIS-K as a danger even greater than Al-Qaeda. Last year, the United States offered a $10-million reward for information leading to the "identification or location" of the leader of ISIS-K, Sanaullah Ghafari, also known as Shahab al-Muhajir.