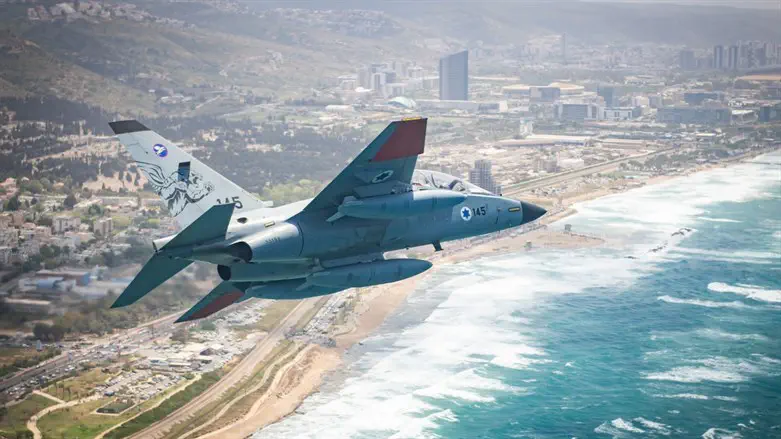 Practicing for IAF flyover
IDF Spokesperson's Unit
The Israel Air Force flyover, which will take place in honor of Israel's 75th Independence Day, signifies unity between the communities in Judea and Samaria and the IDF.
Last year, after a lengthy battle by the Torat Lehima organization, the flyover passed over the Cave of the Patriarchs in Hebron for the first time, and this year, sites in Samaria and the Binyamin region will see the flyover pass over their communities for the first time. These include the communities of Mevo Dotan, Alon Moreh, Itamar, Ariel, Beit El and Alon.
Over 100 fighter planes, attack helicopters, refueling and transport planes, and unmanned vehicles will take part in this year's flyover, and will be operated by Air Force personnel together with foreign air forces such as the United States, Great Britain, Germany and Italy.
Rabbi Aviad Gadot, CEO of the Torat Lehima organization, told Israel National News, "In the face of the phenomenon of refusal, which does not represent the Air Force, we have achieved full success in the fight of the last few years to carry out the flyover around all parts of our country."
"Last year, along with congratulating Air Force Commander General Tomer Bar for having the flyover pass over the Cave of the Patriarchs for the first time, we had families of pilots from Samaria and Binyamin ask the general a simple question: Why should we be excluded? Why do our sons serve shoulder to shoulder with their squadron mates, yet the Israel Air Force plane flyover passes over Umm al-Fahm, and not over Beit El or Ariel?"
"I am happy that these words affected the Air Force Commander and the Chief of Staff whom we approached, and in this aspect of the flyover we can say that the IDF and the settlement are one," he concluded.