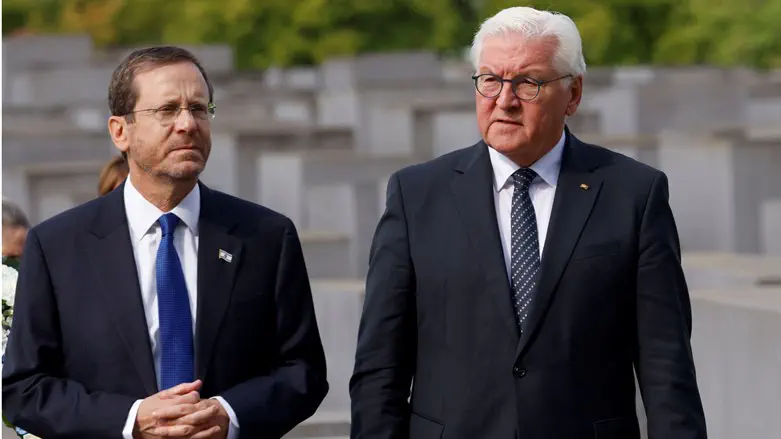 German President Frank-Walter Steinmeier and Israeli President Isaac Herzog
REUTERS
Germany's President Frank-Walter Steinmeier drew a comparison on Wednesday between the Nazi's barbaric response to the Warsaw Ghetto Uprising in 1943 and Russian President Vladimir Putin's invasion of Ukraine in February 2022, BBC News reported.
Steinmeier accused Putin of having "broken international law, challenged borders, committed land grabs" at a ceremony in Poland marking 80 years since the Warsaw Ghetto Uprising occurred.
Over 10,000 Jews were murdered by the Nazis during the uprising in the ghetto, which was established in November 1940 after Germany occupied Poland and became the largest Jewish ghetto during the Holocaust.
Steinmeier also said during the speech that he was asking "for forgiveness for the crimes" Germany was guilty of in the Holocaust.
During the uprising, the Nazi set fire to the ghetto. Many Jews were burned alive or suffocated from the fires. The rest were sent to death camps.
After laying wreaths at the Warsaw Ghetto monument along with Polish President Andrzej Duda and Israeli President Isaac Herzog, Steinmeier described Putin's invasion of Ukraine as bringing "immeasurable suffering, violence, destruction and death to the people of Ukraine."
"You in Poland, you in Israel, you know from your history that freedom and independence must be fought for and defended. You know how important it is for a democracy to defend itself," he said. "But we Germans, too, have learned the lessons of our history. Never again, which means that there must be no criminal war of aggression like Russia's against Ukraine in Europe."
He added that Germany and the West would "stand firmly on the side of Ukraine."
Steinmeier's speech was the first by a German head of state at the annual Warsaw Ghetto Uprising commemoration ceremony.