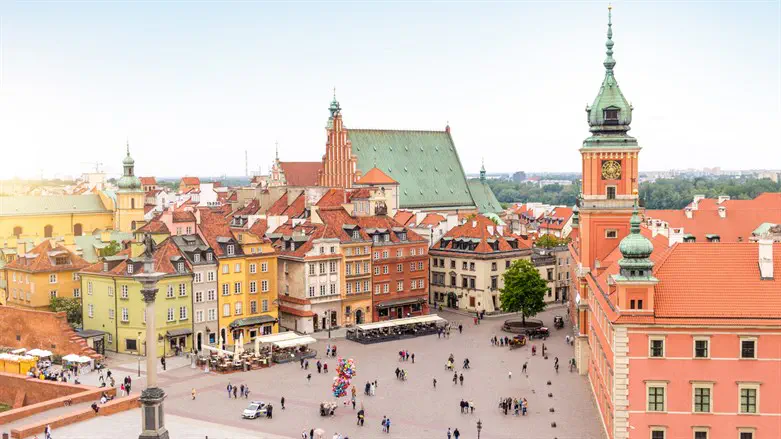 Warsaw
ISTOCK
In less than 18 years since it started rebuilding a local Jewish community, Chabad of Poland's community here thrives, less than a block from the rail stop where the Jews of Warsaw and its environs were loaded onto trains bound for the death camps.
May marks just 80 years (May 1943) after the Nazi General Jurgen Stroop reported to Adolf Hitler that "The Warsaw Ghetto is no more" – in a final report on the liquidation of the Ghetto.
But brothers Rabbi Sholom Ber Stambler and Rabbi Mayer Stambler changed the course of history when they arrived in Warsaw in late 2005. In less than 18 years, Chabad of Poland convenes three prayer services each day, a morning study group with likely the world's only daily Talmud class taught in Polish, a nightly seminar attended by dozens of eager learners, a bi-weekly women's class offered by Rebbetzin Dina Stambler, a Sunday school, and pre-school and communal celebrations on Shabbat and holidays. Chabad of Poland serves more than 12,000 Jews annually including Poles who participate in its regularly offered services, tourists, business travelers, and students visiting Poland to learn about the Holocaust including the thousands that join the annual March of the Living tour.
"When we first came to Poland as the Lubavitcher Rebbe's emissaries we found a generation of Jews who after living through the Holocaust and Communism were unsure of how to practice their religion and interact with Judaism as a whole," said Chabad of Poland Director Rabbi Sholom Ber Stambler. "We started slow, welcoming them into the spiritual warmth of our home for Shabbat meals, eventually to prayer services and after nearly 18 years, our community has grown, more Jews than ever before are flocking to our Jewish communal center on Slominskiego Street."
Since the start of the Russian incursion into Ukraine, Chabad of Poland has been on the front lines, helping Jewish Ukrainian refugees resettle in Poland and serving as a spiritual waypoint for those resettling in Israel and other nations. Throughout their time in Poland, Chabad's locally based emissaries have provided Ukrainian Jewish refugees with shelter, food, and religious services to those in need.
"When war broke out, we began to see a tremendous influx in Jewish families fleeing Ukraine with Poland serving as their first stop," said Chabad of Poland Co-Director Rabbi Mayer Stambler. "We jumped into action growing our community to accommodate them with shelter, food, religious services and inspiration. It is amazing to think that 80 years ago just steps from where we are the region's Jewish communities were liquidated and their inhabitants deported to death camps, today, our not only thrives but also supports our Ukrainian brethren through this difficult period."
Since the start of the Russian incursion into Ukraine, Chabad of Poland based in Warsaw has opened its doors to Ukraine's Jewish community offering refuge, transportation, kosher food, medical aid, financial and material assistance, childcare, educational and social services, communal activities, and administrative and legal aid to tens of thousands displaced by the conflict. Since the start of the war, Chabad in Poland has seen its expenses rise by more than US$2 million. Since the start of the conflict, working in partnership with Chief Rabbi of Poland Rabbi Michael Schudrich, Tzvi Sperber of JRoots, and Jews from across the world, Chabad of Poland has supported tens of thousands of Ukrainian refugees.