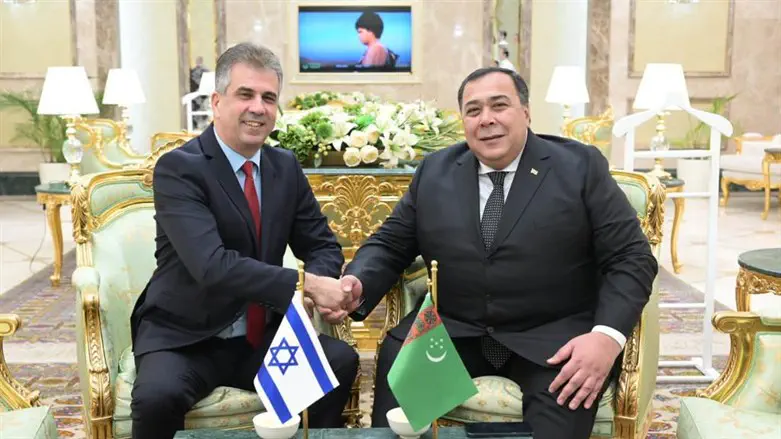 Minister Cohen in Turkmenistan
Shlomi Amsalem/GPO
Foreign Minister Eli Cohen landed on Wednesday evening in Ashgabat, the capital of Turkmenistan.
Minister Cohen is expected to meet with the President of Turkmenistan, Serdar Berdimuhamedow, and with his counterpart, Foreign Minister Raşit Meredow.
He will discuss with them regional security issues and the possibilities for strengthening the relationship between the two countries in the fields of energy, economy, agriculture and innovation.
In addition, Minister Cohen will inaugurate the permanent building of the Israeli embassy in Turkmenistan and meet with representatives of the Jewish community in the country.
Israel and Turkmenistan are this year marking 30 years since the establishment of diplomatic relations between the countries.
About 10 years ago, Israel decided to open an embassy in Turkmenistan.Until today, the embassy was housed in a temporary building.
The embassy building to be inaugurated will be the third Israeli embassy in Central Asia, alongside Kazakhstan and Uzbekistan.
Over the years there have been collaborations between the two countries in the political, economic and energy fields. Recently, there has been progress in the cooperation between Israel and Turkmenistan in the fields of health and cyber defense.