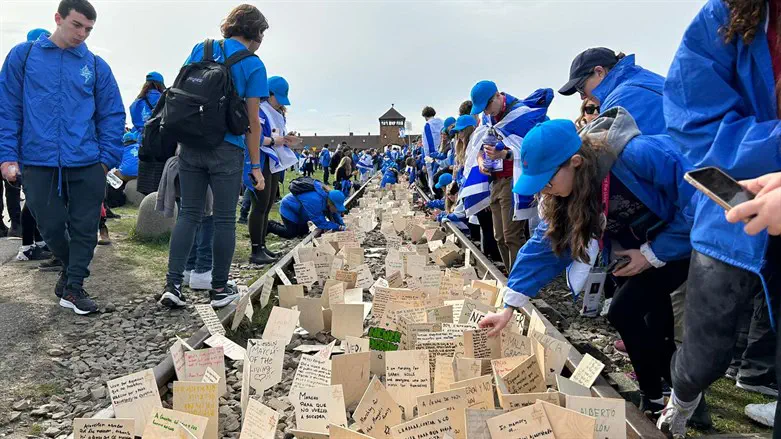 Entrance to Birkenau
Yehonatan Gottlieb
The annual March of the Living took place today (Tuesday) from Auschwitz I to Auschwitz-Birkenau, marking Israel's national Holocaust Memorial Day. The March of the Living – taking place for the 35th year – was led by 40 Holocaust Survivors, alongside more than 13,000 participants from 25 countries around the world.
The theme of this year's March was "Honoring Jewish Heroism in the Holocaust" marking the 80th anniversary of the heroic Warsaw Ghetto Uprising. The uprising lasted four weeks and has become a symbol of Jewish courage and heroism during the Holocaust. Addressing the ceremony at Auschwitz-Birkenau was Italian President Sergio Mattarella, as well as Israel's Minister of Education, Yoav Kisch. Minister Kisch spoke of how his grandfather had fought, and fallen in battle against the Nazis as the highest ranking Jewish servicemen in the British army in WWII. He pledged that Israel would continue to fight antisemitism and hold dear the memory of the victims of the Holocaust.
In addition, this year's march included a bi-partisan US delegation led by US Ambassador to Israel Thomas Nides, and his predecessor Ambassador David Friedman. In addition, Israeli entrepreneur and philanthropist Haim Taib, lit a memorial torch in memory of the Jewish communities in North Africa who suffered under Nazi occupation – many of whom were imprisoned or deported to camps.
Among the 40 survivors leading the March was Warsaw-born Holocaust Survivor, Halina Birenbaum, who was a child during the uprising and was hidden in a bunker until the Nazis liquidated the Ghetto. She was deported to Majdanek and later to Auschwitz. She was accompanied by grandchildren of Jewish resistance fighters: Eyal Zuckerman, granddaughter of ŻOB commanders Zivia Lubetkin and Yitzhak (Antek) Zuckerman; and Nir Yaari, grandson of a resistance fighter, Bela Hazan Yaari.

Also lighting torches at the ceremony was Jewish-American businessman Robert Kraft; philanthropist, Miriam Adelson; Mark Wilf, Chair of the Board of Governors of the Jewish Agency for Israel; Ifat Ovadia Luski, Chair of KKL-JNF.
Addressing the ceremony at Auschwitz-Birkenau, the President of Italy, Sergio Mattarella, said, "Dear survivors, dear youth. We are here today to remember and pay tribute to the millions of victims of the bloodthirsty Nazi regime, whose atrocious crimes against humanity were enabled by the complicity of European fascist rulers, who handed over their own fellow citizens to their torturers. Such crimes shall never be forgotten nor forgiven."
He stressed, "Today is Yom HaShoah, Holocaust Remembrance Day. Remembering is a part of our commitment. It is proof that, against the standard-bearers of oblivion, memory wins. To state how proud we are when we strive to be "human beings," to reaffirm "never again".

Dr. Shmuel Rosenman, International March of the Living Chair and CEO addressed the ceremony, and said "The late Elie Wiesel reminded us many times, of this important truth: When you listen to a witness, you become a witness. Since that first March took place in 1988, we have brought back with us to Auschwitz hundreds of survivors – who have created hundreds of thousands of dedicated young witnesses. This new young generation of witnesses have committed to be the bearers of the survivors' memories – to transmit the torch of memory to their own children."
He added, "Each time we return to Poland, each time a Holocaust survivor shares his or her story of survival, we are performing an act of modern day resistance, and proclaiming this same powerful reality: Hatred did not win."
Mark Wilf, Chairman of The Jewish Agency Board of Governors, lit a torch and said, "After surviving the horrors of the Holocaust, my parents instilled in us the notion that the only thing that can protect us is a strong State of Israel, and that horrible things can happen anywhere if good people don't act. March of the Living is very much in this spirit and it is beyond moving for me to be here, bearing witness, with so many others from around the world, as well as with my family. It is our duty to preserve the memory of those who perished in this atrocity for generations to come."
Lighting the first-ever torch at the annual ceremony dedicated to the Jews of North Africa, Haim Taib said, "My grandfather was sent, along with thousands of Jewish men, to Nazi forced-labor camps in occupied Tunisia, where he was starved, beaten and tortured. His story reflects the reality of the Jewish communities of Tunisia and North Africa under Nazi occupation." He was accompanied by his wife Iris, whose grandmother survived Auschwitz. Iris explained, "I am proud to stand here today in memory of my grandmother. The Nazis gave her a number and I wear it too. A10299, this number is tattooed on my arm, also in memory of your sisters, Bluma and Ibi who never left this place."