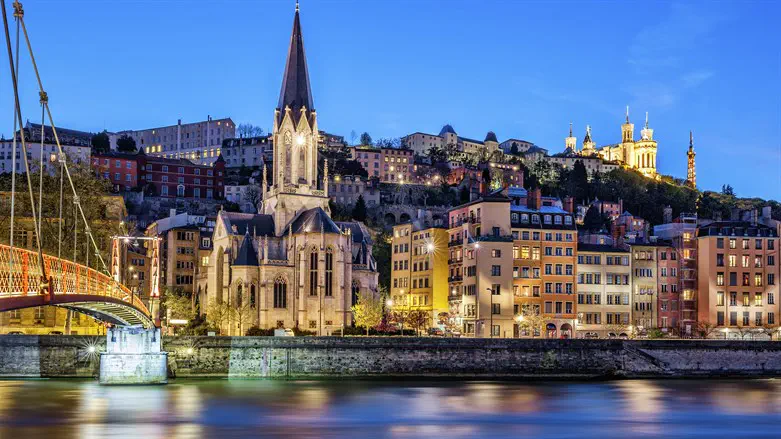 Lyon, France
iStock
The Lyon Metropolitan Council has granted a subsidy of $80,000 for the creation of a Holocaust memorial in the French city.
The future site of the memorial will be in Place Carnot, a square located in Lyon's 2nd arrondissement near Lyon-Perrache station, a large train station. The plan calls for it to open in 2025, Le Figaro reported.
The council adopted the resolution on Monday, calling for the construction of a memorial that the association behind the project will inaugurate on January 27, 2025 to coincide with the 80th anniversary of Auschwitz's liberation.
The $540,000 project is also receiving a substantial grant from the Auvergne-Rhône-Alpes in southeast central France.
In February, an international competition was launched for the site's design, with Lyon's deputy mayor, Jean-Marie Chanon, envisioning a memorial that is educational, not abstract and "catches the eye and the mind immediately."
The city of Lyon, which was known as the "capital of the French Resistance" during World War II, wants the monument to be visible from all directions and to allow for space for commemorations.
It currently has several markers honoring victims of the war but has no Holocaust memorial. However, there is a Holocaust memorial containing the names of Jewish residents of the city who were deported located at La Mouche Jewish cemetery in the city's 7th arrondissement.
The plan was initially put forward by then-Mayor Gérard Colomb in 2019, according to RFI.
"I am delighted with the materialization of this project, which has been long been called for by associations and figures in Holocaust education," Bruno Bernard, president of the Metropolis of Lyon, said after the subsidy was approved.
In December, Lyon Mayor Grégory Doucet voiced support for the monument.
"The City's support for the construction of the monument is the expression of collective and republican solidarity," he said on Twitter.