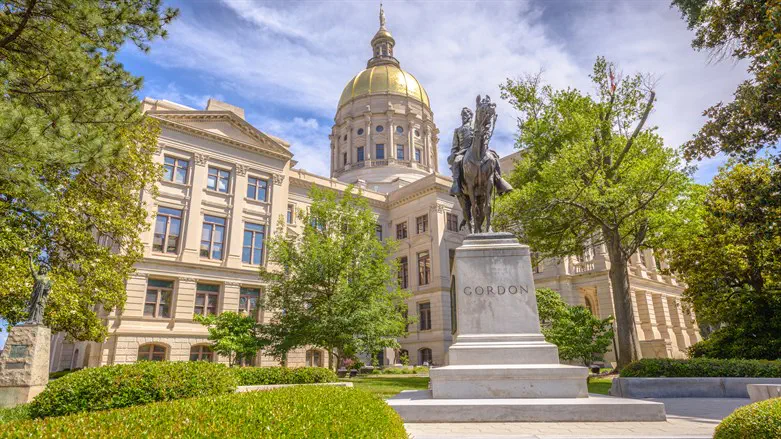 Georgia State capitol building
iStock
Georgia senators saved a measure to include the IHRA definition of antisemitism in the sate's hate crimes law on Thursday, after it failed to pass the state Senate earlier in the week.
The bill had been removed by its co-sponsors, state Reps. Esther Panitch and John Carson, after the Senate Judiciary Committee adopted an amendment from Senator Ed Setzler on Monday that altered the IHRA definition of antisemitism, replacing it with an explanation of antisemitism that defined discrimination against Jews as only the "negative perception of Jews instead of a 'certain' perception.'"
"[Setzler] defines antisemitism as only the negative perception of Jews," Panitch said, according to Fox5. "There are plenty of positive perceptions of Jews that get Jews killed, such as believing that Jews are wealthy."
On Thursday, the senators passed the original bill, including the IHRA definition of antisemitism, through a different Senate committee under a new bill number
The new measure was approved 6-2 by the Senate Children and Families Committee. It now will proceed to a final vote in the House and Senate before the end of the legislative session on Wednesday, the Atlanta Journal-Constitution reported.
The return of the bill was the work of Lieutenant Governor Burt Jones and Republican Senate leaders after its tabling when the IHRA definition was watered down on Monday.
Republican Senator Kay Kirkpatrick, the committee's chair, told the news outlet that senators worked to ensure the measure would still proceed because Jones felt it was "an issue of public importance."
"Threats and attacks against Jewish children and families in all of our districts can't be tolerated in Georgia," she said.
Panitch is Georgia's only Jewish politician. A few weeks before the measure originally was introduced in the state House, she was among the people who found antisemitic flyers in their suburban Atlanta driveways in largely Jewish neighborhoods.
According to the StopAntisemitism advocacy organization, the Goyim Defense League (GDL) hate group was behind the flyers, which were found in the Atlanta districts of Dunwoody and Sandy Springs, areas that have large Jewish populations.
Panitch had described to Fox5 that the failure of the measure left her "incredibly disheartened."
"The African-American community had to wait until Ahmaud Arbery was dead in order to get the hate crimes bill passed. I'm hoping we don't have to wait for the same to get a definition of antisemitism in the books," she said.