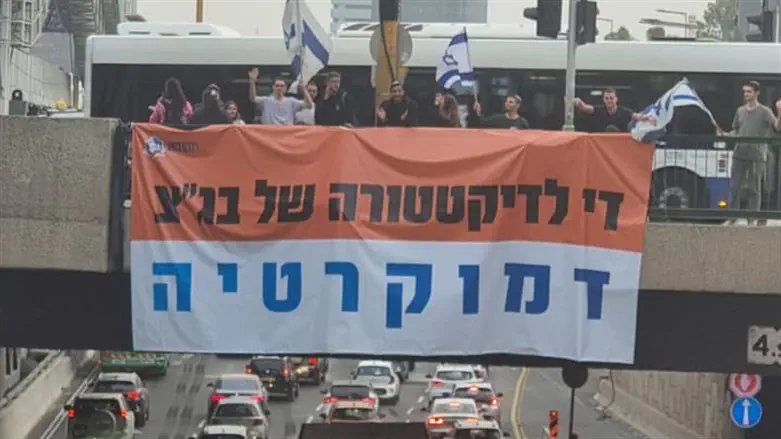 Pro-reform activists hang a banner on an overpass in central Israel
Courtesy
Hundreds of activists gathered on several overpasses across the country on Wednesday to show their support for the government's judicial reform legislation.
The activists hung banners stating, "The nation chose the reform - support the reform, go out to the bridges" and "Stop Supreme Court rule, reform now!"
In Tel Aviv, the demonstrators held a sign depicting the anti-reform movement's symbol of a fist with a big X over it and the words "always brothers."
The demonstration was initiated by Tkuma 23 chairman Berale Crombie and the special right-wing organization headquarters led by Avichai Baron and Yoel Shilo.
The headquarters initiated the hanging of signage supporting the reform on dozens of roads, bridges, junctions, and central locations in the country. The signs depict Justice Minister Yariv Levin, Constitution Committee Chief Simcha Rothman, and the statement, " Yariv, Rothman, the people are with you. 2,304,964 citizens voted for the reform to fix the judiciary."
The movement also hung large signs on the hotels at the entrance to Jerusalem and on a building near the Azrieli Towers in Tel Aviv, one of the sites where anti-reform protests are commonly held.
Berale Crombie stated: "After a great amount of time that the left controlled the bridges and protested, the time has come that the right, the majority of the nation receiving 64 seats in the election, conquer the bridges. Our message is clear, the nation of Israel supports judicial reform and the need to fix the justice system. I call on the nationalist camp to come and join the nationwide demonstrations. We chose reform."