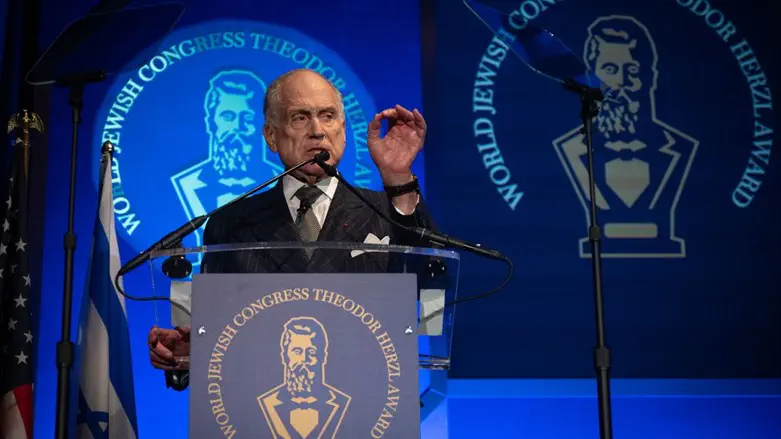 Ronald S. Lauder, World Jewish Congress President
Shahar Azran/WJC
The World Jewish Congress (WJC) presented a report on European Union governments' progress developing action plans to tackle antisemitism on Tuesday at its summit in Madrid.
The report tracks the progress of concrete steps that came out of the Malmö International Forum on Holocaust Remembrance and Combating Antisemitism in October 2021, where countries focused on a plan to fight antisemitism and to advance Holocaust education and remembrance.
"The WJC program in Madrid will specifically focus on issues affecting Jewish communities and underscore the importance of fostering international cooperation," WJC said in a statement.
While in Spain, a WJC delegation will be meeting with Spanish King Felipe VI and Minister of Foreign Affairs José Manuel Albares Bueno as Spain prepares to take over the presidency of the Council of the European Union, for the fifth time, on July 1, 2023.
The delegation will be led by WJC President Ronald S. Lauder, and will include members of the Executive Committee, Jewish leaders from over 50 nations, and two dozen members of the Special Envoys and Coordinators Combating Antisemitism (SECCA) forum, including US Special Envoy for Monitoring and Combating Antisemitism Ambassador Deborah Lipstadt and her EU counterpart Katharina von Schnurbein.
"The officials, charged with devising and implementing national action plans, will hear from the community officials and share best practices," WJC said.
In February, Spain approved a national plan to implement the European Strategy to Combat Antisemitism for 2023-2030.
"As Spain prepares to take the reins of the presidency of the EU Council, it is essential that it capitalizes on recent efforts by the international community to develop concrete actions to support and strengthen Jewish communities as they face rising antisemitism," Lauder said. "The history of Jews in Spain is complex, filled with remarkable achievements but also deep sorrow and exile. Spain has an opportunity to write a new chapter in its relationship with the Jewish people."