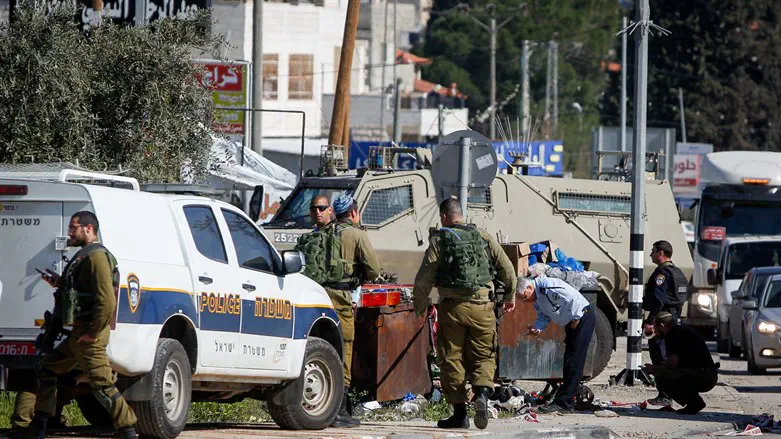 Huwara
Flash 90
More than two-thirds of Palestinian Arabs support terrorist groups like the Lions' Den organization, a new poll found, and deadly terror attacks against Israeli Jews, including last month's shooting attack that left two brothers dead in the Samaria town of Huwara.
The poll was conducted by the Palestinian Center for Policy and Survey Research from March 8th through the 11th, surveying 1,200 Arabs in Judea, Samaria, and the Gaza Strip, with a margin of error of +/- 3%.
Conducted in the weeks after an Arab terrorist shot and killed 21-year-old Hallel Yaniv and 19-year-old Yagel Yaniv after forcing their vehicle to stop on Route 60 in Huwara, but before Sunday's shooting attack in Huwara that left 44-year-old US-Israeli citizen David Stern wounded, the poll found strong support for new terrorist groups like the Lions' Den and Jenin Battalion, with 68% of all respondents saying they are in favor of the formation of terror groups not linked to established movements in the Palestinian Authority.
Support for the new terror groups was slightly higher in the Gaza Strip (71%) and slightly lower in Judea and Samaria (66%), with just 25% of all respondents opposed.
Fifty-eight-percent of Palestinian Arabs back a third intifada, up from 55% three months ago.
More than half (52%) say the Palestinian Authority should be dissolved, with 28% backing a binational Israeli-Palestinian state.
An even wider majority say they approve of the deadly terrorist shooting in Huwara on February 26th, with 71% of all respondents supporting the attack, compared to just 21% who oppose the Huwara attack and similar acts of terrorism.
If new elections were held today for the Palestinian Authority leadership, the incumbent, Fatah chairman Mahmoud Abbas, would lose to the Hamas leader, Ismail Haniyeh, by a margin of 36% to 52%, with similar margins in both Judea and Samaria and the Gaza Strip.
Just 27% of respondents back a two-state solution, with 71% opposed.