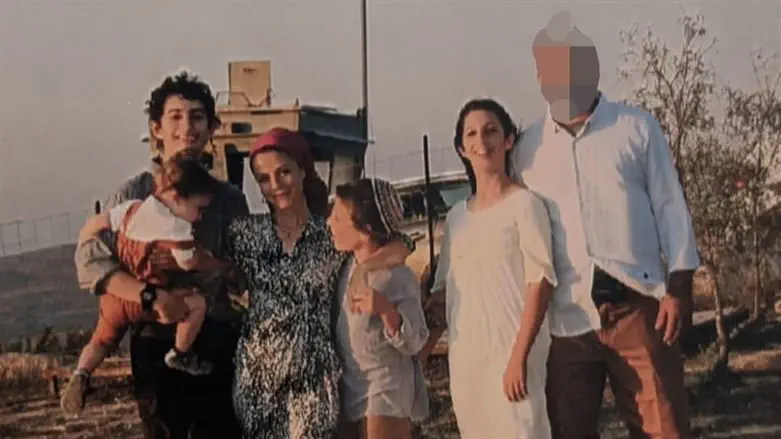 David Stern (right) and his fmaily
Courtesy of the family
Israel's military censor on Sunday evening cleared for publication the identities of the two victims from a terrorist shooting attack in Samaria afternoon.
The victims, both dual American-Israeli citizens, are 44-year-old David Stern and his wife, 37-year-old Rachel Stern, residents of the Givat Ronen neighborhood in the town of Itamar, north of Huwara, the site of the attack.
David Stern, a Krav Maga self-defense instructor and trainer for first-responder security teams, was shot in the head Sunday afternoon when an Arab terrorist approached his car and opened fire at point-blank range with a Carlo-style submachine gun.
The bullet apparently grazed Stern's skull, and was deflected into his arm.
After being evacuated to the Beilinson Medical Center in Petach Tikva in serious condition, hospital officials said Stern is now listed in moderate-to-serious condition, adding that he is not in life-threatening danger.
Rachel Stern was treated for shock after the shooting, while the couple's children who were present in the car at the time of the attack were not injured.
During the attack, Stern was able to return fire – even after being shot in the head – wounding the terrorist, who dropped his gun and fled. The Palestinian Authority outlet WAFA reported that the terrorist was later arrested.
"I am praying for the wounded hero injured in the attack in Huwara, who was able to neutralize the terrorist," Prime Minister Benjamin Netanyahu said. "I send my support to the security forces operating in the area. I reiterate: Anyone trying to harm the citizens of Israel will pay the price."
A former member of the US Marine Corps who later immigrated to Israel and volunteered for a civilian defense group securing Israeli towns in Judea and Samaria during the Second Intifada, Stern and his family were en route to Jerusalem at the time of the attack, where Stern was planning to attend a Torah lecture.